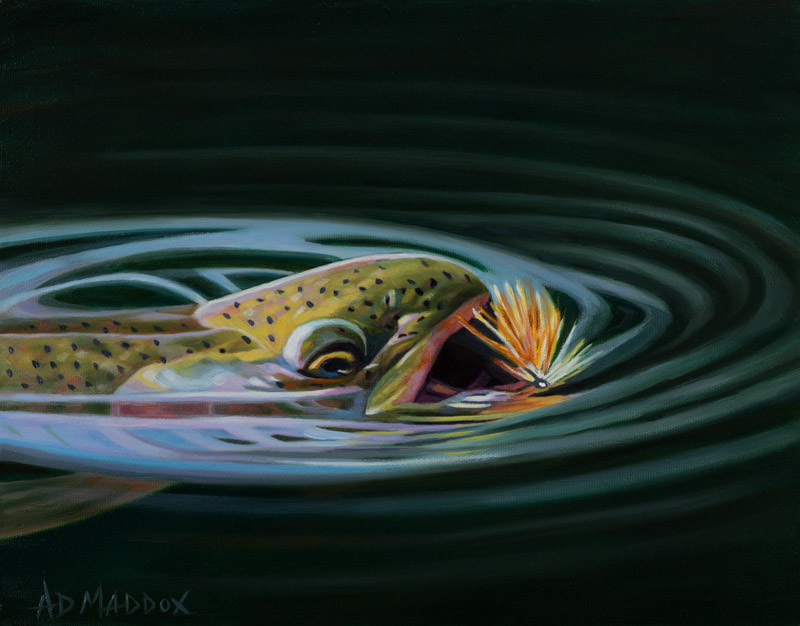 Catching up with Montana fly fishing artist and angler A.D. Maddox.
Written by Jenn Thornton
A.D. Maddox does not fish for compliments. But she could. Turns out, one of the world's best-known "Fly Fishing Artists" is a seasoned angler, too, whose vibrant, almost electric original artwork has caught the attention of art collectors, megabrands like Patagonia, and magazines including Gray's Sporting Journal. A Renaissance woman in a modern age, the Ducati-riding, mustang-chasing, gallery-owning A.D. wades all kinds of waters.
Creativity was always in the cards for A.D. "I began painting at the age of 6 and truly loved it," says the artist, who was born in Tennessee but lost her heart to the American West where her wild, independent streak found a creative and spiritual home. Initially in Jackson Hole, Wyoming, where she worked after a stint apprenticing under famed artist Kamy Deljou in Atlanta, and currently in Livingston, Montana, the base of her gallery A.D. Maddox Studios. The West is tailor-made for a working artist like A.D.—emphasis on work. If there is a freedom in her wildly realistic, three-dimensional depictions, it comes from "persistence, determination, purpose, goals and always keeping my brush wet," says A.D. "Nothing worthwhile in life is easy and that goes for being a working artist. I absolutely love what I do!"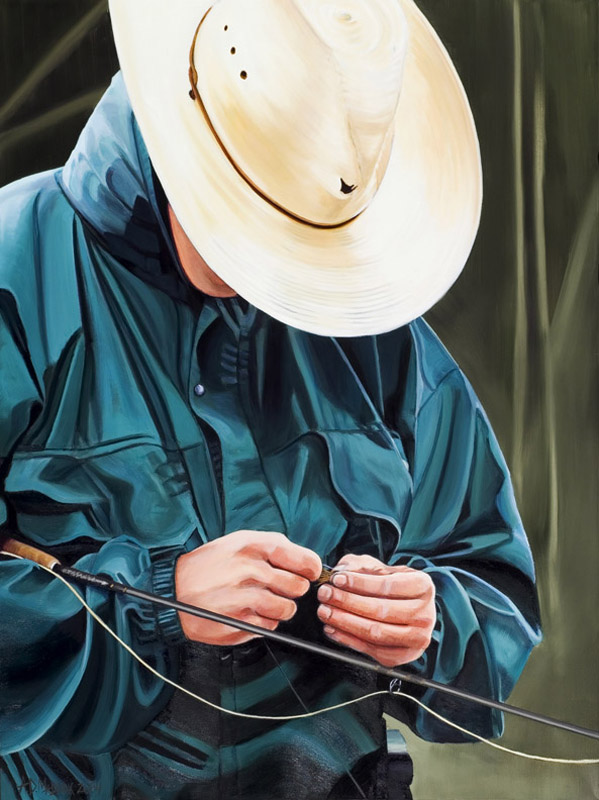 ---
Nothing worthwhile in life is easy and that goes for being a working artist.

A.D. Maddox
---
It shows. Who knew that trout were so luminous? A.D. did. Choosing fish as her primary artistic focus was a brushstroke of genius on her part. "In 1998, when I first went into a major gallery, I was looking for a [regional] subject matter to paint that would communicate to my Western audience," she remembers of training her eye on trout. When it was suggested that she try painting fish, A.D. "grabbed some reference photos and got to work." Luring in an audience didn't take long. "My first piece sold within the hour for $1000," she says.
Catching trout for 20 years now, A.D. says, "Fly fishing is necessary for what I do." So, every September when the water is clear, she heads out with Lee Kinsey of Secluded Water and together they produce the reference material that inspires her oil paintings. "The work I do is technical," she explains of her process. "I'm painting photorealism, and if you can imagine painting every color and value in moving water, then you know the magnitude of my challenge."
One can understand, then, why the diligent and industrious A.D.  is not an "all work and no play" artist. "Life is to some degree needs balance," she says, "…a change in viewpoint and room to breathe. Working up close on an easel needs to be balanced with going outside and seeing things from a distance otherwise exhaustion can occur, or as other artists call it—burn out."In giving herself the space to create and permission to breathe (she works roughly 10 months out of the year and plays for two), A.D. is something of a big fish in the Western art world. But it's the land that grounds her. "Nature and being outside in the mountains have always inspired me," she explains. "I suppose it's primal, but there's a sense of feeling alive. It's in these moments when I'm fishing, hiking or just playing in the mountains that the pressures of life melt away and I feel the true essence of who I really am." An artist and outdoorswoman with a truly extraordinary gift. "It's just me in the moment enjoying my time on Earth."
Photographs courtesy of A.D. Maddox