Join us for John Wayne's "The Cowboys" 50th Anniversary Weekend Festival in the Fort Worth Stockyards June 24-26.
John Wayne: An American Experience, The Cowboy Channel, Stockyards Heritage and Hotel Drover partnered with the members of the cast of "The Cowboys" to host a celebratory weekend festival in honor of the film's 50th Anniversary.
The 3-day celebration will include outdoor film screenings after sunset on the Livestock Exchange lawn (with pre-show entertainment and food trucks) on Friday and Saturday nights, meet and greet opportunities with 9 members of the cast, a live televised film panel with studio audience on Sunday night at The Cowboy Channel Studio, and special installations and a reception at John Wayne: An American Experience.
---
Friday, June 24 and Saturday, June 25 – Outdoor Film Screenings
Bring your family, friends, blankets and chairs to enjoy after sunset special screenings of the 50th Anniversary of John Wayne's film "The Cowboys." Come early and enjoy pre-show entertainment, including live music, a bar and food trucks!
Get tickets for Friday and Saturday film screenings in the link below!
EVENT DETAILS:
Feature: The Cowboys (1972) 50th Anniversary
About: Directed by Mark Rydell, "The Cowboys" is a gritty coming of age Western telling the story of Rancher Wil Anderson (played by John Wayne) who was forced to hire schoolboys (aged 9-15) as cattle drivers to get his herd to market over 400 miles away with a gang of cattle rustlers trailing them.
Movie Length: 2 hr. 15 min.
Rating: PG
Location: Livestock Exchange Building Lawn – 130 E. Exchange Ave Fort Worth, TX 76164
Time: Gates 6:30PM / Band til 7:30PM / Movie 8:15PM
MC: Ethan Wayne (John Wayne's youngest son)
Live Music: Friday Night – Red Iron Push / Saturday Night – Aurora Bleu
Food: On-site food trucks and bar will be available to purchase food and drinks.
Tickets: Available HERE
– General Admission Adults – $20
– General Admission Children (6-12) – $10
– Children 5 and under are FREE
– 7:30PM VIP Meet & Greet with the cast from "The Cowboys" (Saturday only) – $100 per person. (Limited to 40 tickets)
Seating: First come, first serve. Low chairs only, which sit max. 6″ off the ground.
Parking: Fort Worth Stockyards street, public and paid parking available.

---
Sunday, June 26 – "The Cowboys" 50th Anniversary Live Televised Film Panel
Join us for the finale for the weekend celebration with a live televised Film Panel at The Cowboy Channel Studio with 9 members from the cast of "The Cowboys," including: Robert Carradine, A Martinez, Mike Pyeatt, Nicolas Beauvy, Alfred Barker Jr., Sam O'Brien Bass, Stephen Hudis, Sean Kelly, and Steve Benedict Austin.
Get tickets for Sunday's Film Panel in the link below!
EVENT DETAILS:
4PM – Pre-panel Reception at John Wayne: An American Experience, 2501 Rodeo Plaza, Fort Worth, TX 76164
6PM – Live 1-hour Film Panel at The Cowboy Channel, 130 E. Exchange Ave., Fort Worth, TX 76164
Tickets: Available HERE
– General Admission – $70 per person
– Tickets include a pre-panel reception (with Duke Spirits cocktails and lite bites) at John Wayne: An American Experience at 4PM CST and commemorative pin and bandana.
Net proceeds from the ticket sales throughout the weekend benefit the John Wayne Cancer Foundation.
---
Panel Reveal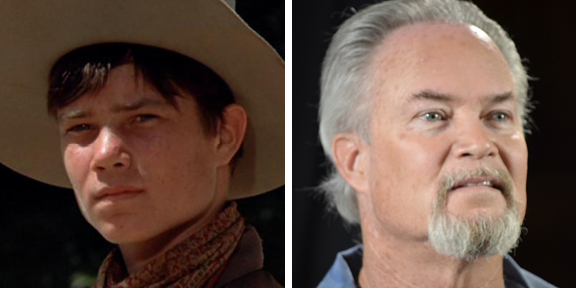 Steven Benedict Austin as "Steve"
Visiting the set of the TV show "Bonanza" at age 12 convinced Steven Benedict Austin to pursue acting. He went from his first job—a Kool Aid commercial with the pop group The Monkees—to a casting call for "The Cowboys" in 1971. "Once they narrowed it down, they had us all learn to ride horses seven days a week," he remembers. "I literally went from zero experience to 100% rodeo cowboy." With his earnings Steven purchased a few roping horses; he Team Roped and Calf Roped and even learned to bull ride. "I still have horses to this day." Steven worked in the business from 1969 to 1982 in "The Cowboys," commercials, and TV shows including "Bonanza" where, he says, "it all began for me." Married at 19, Steven went to school to be a Series 7 stockbroker and later earned his California Contractors license to build custom homes.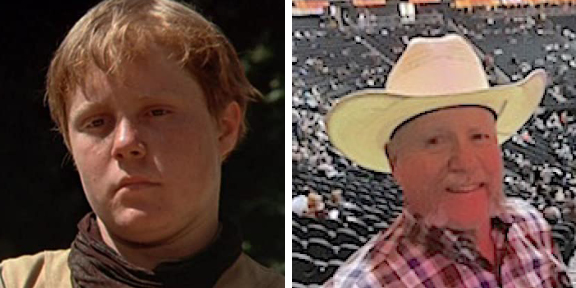 Al Barker Jr. as "Singing Fats"
Born in Riverside, California, Alfred Barker Jr. learned to ride horses and rope from the ground up. At age 14, he was cast as Singing Fats in the "The Cowboys," an experience he describes as the "fulfilment of a dream to be able to work in a movie with the greatest icon ever." Alfred also worked with actors Michael Landon and Lorne Greene, in appeared in an episode of "Bonanza," meeting and working with Ron Howard. Having never hung up his cowboy hat, Alfred held memberships in multiple rodeo associations and, for a period of time, a permit with the PRCA. Alfred spent 35 years with the Riverside County Sheriff's Department and retired from a successful career in law enforcement. He joined the National Police Rodeo Association and competed in numerous rodeos, as well as in the "Police Olympics," winning numerous medals for various equestrian events. With an adult son and daughter, Alfred is currently married to the love of his life, Carrie Barker.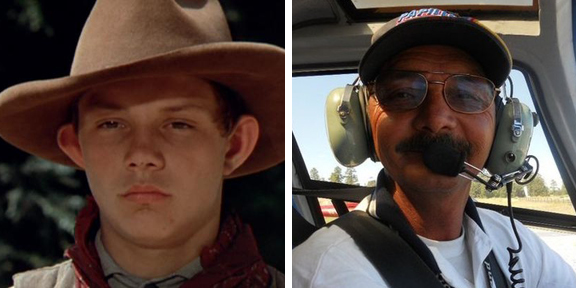 Sam O'Brien Bass as "Jimmy Phillips"
Portraying Jimmy Phillips, one of the cowhands who gets some tough love from John Wayne in "The Cowboys," Sam O'Brien Bass left Hollywood behind to follow another call. In in move that would have made the military-supporting Duke salute, Samattended military college at NMMI and served 25 years as a helicopter pilot in the Army. After he retired, he worked with a private helicopter company whose contracts with the U.S. Forest Service fighting wild fires took Sam to several different states. Later he worked with Papillon Helicopters at the Grand Canyon in Arizona. Now fully retired, Sam now resides in Texas.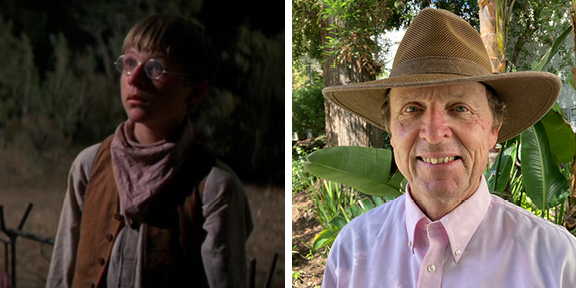 Nicolas Beauvy as "Dan"
As Dan in "The Cowboys," native Canadian Nicolas Beauvy came to the Wayne-led set having previously appeared as the young King Arthur in "Camelot"with Richard Harris and Dutch Farrell in "Shoot Out" with Gregory Peck. He later portrayed Chris Logan in "Rage" opposite George C. Scott and appeared in over 30 episodic television shows, including the popular series' "Bonanza" and "The Virginian." After hanging up his hat as an actor, Nicolas chased his dream of becoming a professional golfer after shooting a 68 in the 1979 US Amateur and placing 5th overall. Today, Nicolas is a residential Realtor with Coldwell Banker in Los Angeles.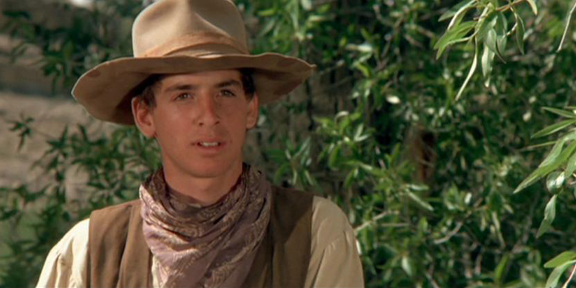 Robert Carradine as "Slim Honeycutt"
Since taking the reins as Slim Honeycutt in "The Cowboys," actor and producer Robert Carradine has amassed numerous film and TV credits in his decades-long career. Born into the talented Carradine clan, Robert is the son of actor John Carradine, who, long before "The Cowboys," starred alongside Duke in John Ford's iconic Western "Stagecoach." After Robert's big-screen debut in "The Cowboys," the Hollywood, California-born actor appeared in a host of tentpole pictures, including Martin Scorsese's "Mean Streets," Hal Ashby's "Coming Home" (with "Cowboys"castmate Bruce Dern), Sam Fuller's "The Big Red One" and "The Long Riders" about the infamous Jesse James gang. In the 1980's cult comedy classic "Revenge of the Nerds," Robert continued to show his range as an actor.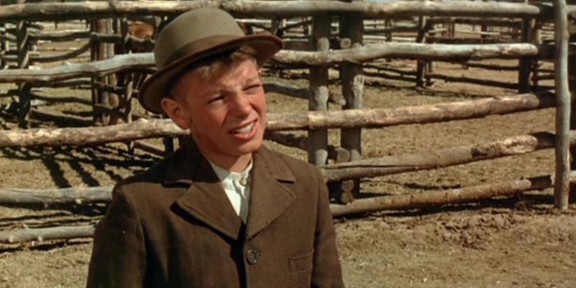 Steven Hudis as "Charlie Schwartz"
Originally born in London, England, with dual citizenship in the UK and USA, Stephen Hudis grew up in the industry and followed his parents to Hollywood where they were recruited to work on various projects. Stephen's own gains in the industry came in commercials and both guest-star and leading roles in popular TV shows of the time. He was then cast as Charlie Schwartz in "The Cowboys." Stephen has since worked his way up through the ranks of the entertainment industry, including nearly every department on a film unit. His work can be seen in a variety of commercials, TV shows and feature films as a stunt performer, stunt driver, stunt coordinator and second-unit director.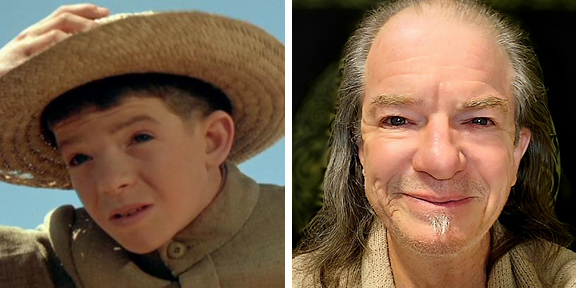 Sean Kelly as "Stuttering Bob"
From the late 1960s to the early 80s, Sean Kelly appeared in commercials for brands from Pizza Hut Pringles and Diet Coke to Dad's Root Beer and Dawn, and in over 50 episodic TV shows including "Bonanza," "Lassie," and "Marcus Welby" to "Adam-12," "Police Story," "Wonder Woman" and more. After portraying a young Jewish French boy in Stacey Keach's "The Incident at Vichy," Kelly put on the boots of Stuttering Bob, the character who cursed at the Duke in "The Cowboys." Today offering Intuitive and Trance Channeled consultation, Sean travels throughout the U.S. and internationally sharing Visionary Guidance. He resides among the Red Rocks of Sedona, Arizona.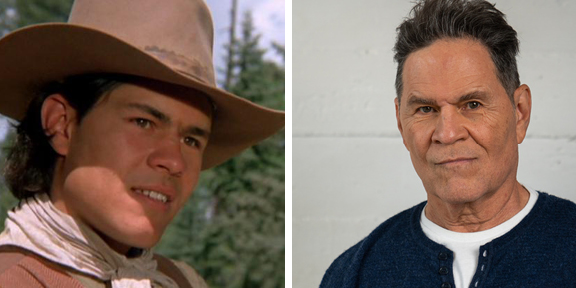 A Martinez as "Cimarron"
Best-known for his Daytime Emmy Award-winning role as Cruz Castillo on "Santa Barbara," A. Martinez also appeared on the popular soaps "Days of Our Lives" and "General Hospital." A familiar face in Western fare, as well, the actor recently appeared as Jacob Nighthorse in "Longmire"; most recently, he's been seen in Michael Bay's "Ambulance," and in "Cowboy Bebop" on Netflix. Long before all that, however, he kicked up dust alongside the Duke as Cimarron in "The Cowboys." "It was a thrill and an honor to be a part of this project," Martinez posted to Instagram. "A haunting, timeless theme, adapted from the novel by William Dale Jennings, brilliantly directed by [Mark] Rydell, with gorgeous cinematography by Bob Surtees, an indelible score by John Williams—and a great performance by John Wayne—the power of #TheCowboys abides."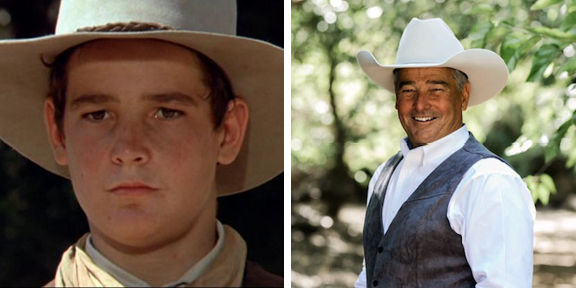 Mike Pyeatt as "Homer Weems"
Born in Baytown, Texas, Mike Pyeatt grew up all over the western United States. While his father was working on the Steve McQueen film "The Reverse," Pyeatt met "Cowboys" director Mark Rydell, who asked the young actor if he wanted to audition for the film. Pyeatt proved extremely well cast in the role of Homer Weems. When he was 18, he qualified for the NFR in Oklahoma City, and he also won the Mountain State Circuit Team Roping Championship in 1975. Today, Pyeatt resides in Hanford, California, and works as Superintendent at NAS Lemoore, building the support infrastructure for the F-35 strike fighter plane.