Live Nation, Chef Tim Love and Larry Joe Taylor launch the first Fort Worth Music Festival & Conference at the Stockyards
Written by Constance Dunn
The Stockyards will be alive with the sounds of homegrown Texas music from March 2-4 when industry insiders, live acts and those eager to hear them will converge on the happening historic district for the first Fort Worth Music Festival & Conference. Think of it as a cross between a music networking conference and a showcase of up and coming acts—not unlike the Lone Star State's massively successful SXSW, which begins this year only a week after Forth Worth.
The schedule kicks off on Wednesday March 1st with a VIP gathering at Tannahill's Tavern & Music Hall—owned by festival co-founder and proud Texan Tim Love, in partnership with the global entertainment force Live Nation—and continues through March 4th, Saturday night. During the festival attendees can bounce between 30-something live Texas acts happening at seven Stockyard hotspots, all within walking distance, including the legendary Billy Bob's, as well as the Love Shack and its next-door neighbor, the White Elephant Saloon, both owned by Tim Love.
The main goal of the event is to raise the profile of the Texan music scene, so look for performances that run the gamut from mellow and unplugged to rousing. Low key performances include song-swap sessions, where singer-songwriters perform each other's music, and a 5pm lobby show on Thursday at Tannahill's by popular Fort Worth country singer-songwriter Jacob Armitage. Later that night there's a March 2nd Texas Independence Day jam session, followed by a Tex-Mex honky tonk set by the Tejas Brothers.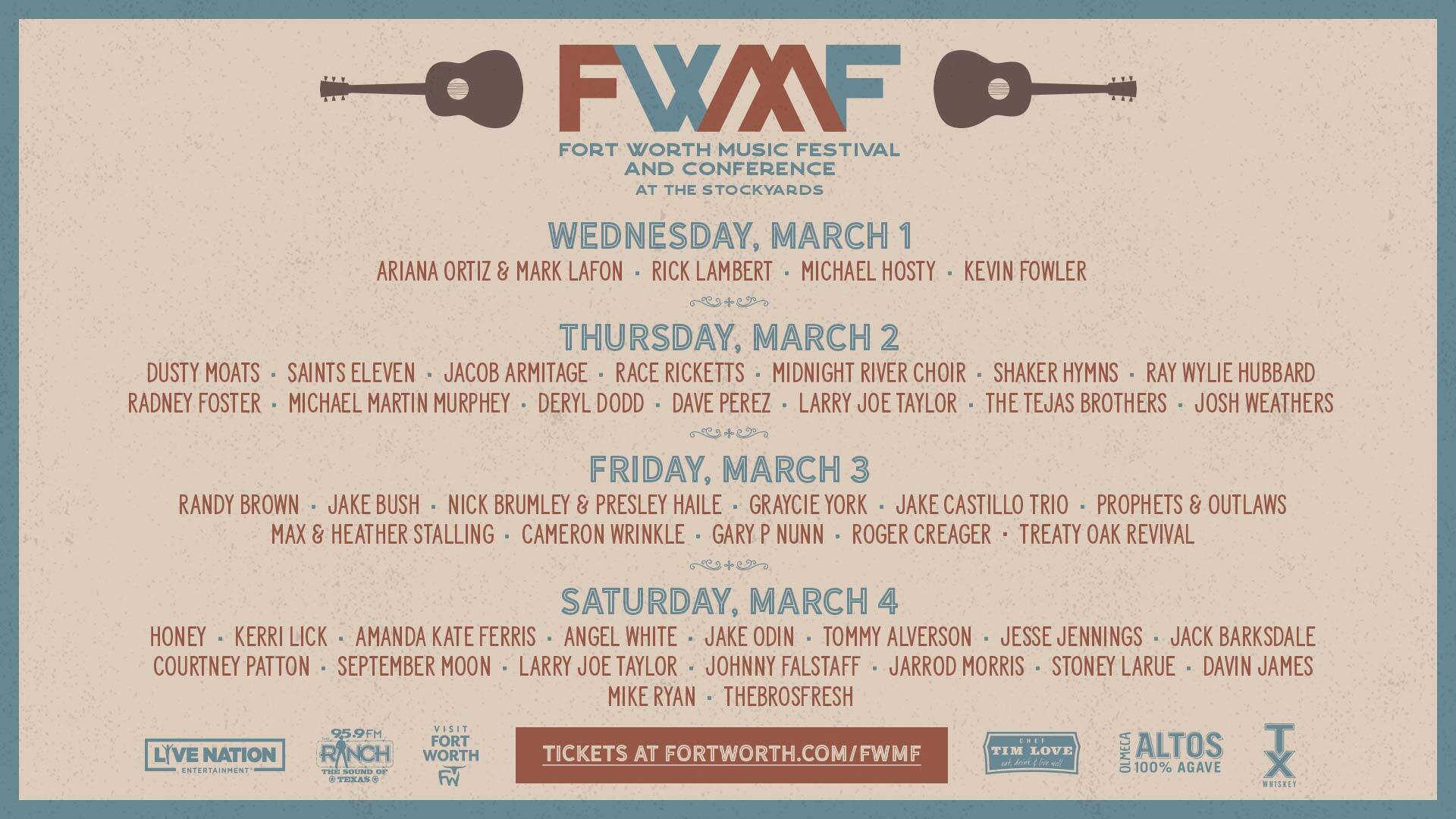 Expect one of the biggest draws to be Saturday night's performance by legendary Texas songwriter and performer, Larry Joe Taylor, who is also co-founder of the Fort Worth Music Festival & Conference. At 8pm Taylor, who has been celebrating Lone Star talent for over 30 years via his eponymous music festival, will be performing at The Barn, located in the luxurious new Stockyards destination Hotel Drover, which recently hosted another Taylor—Taylor Sheridan and the Yellowstone cast for the new season premiere of the hit show.
On the industry side, Fort Worth Music Festival & Conference will include panel discussions and speakers, as well as workshops and networking events—all in keeping with the goal of elevating Texas musicians. Rick Lambert of Miranda Lambert Management will give the keynote, and notable speakers include Henry Glascock, a partner at the Nashville hub of entertainment powerhouse WME, along with a mix of seasoned managers, bookers and performers—including founders Larry Joe Taylor and Chef Tim Love—offering insider knowledge on how to establish oneself in the music business.
Topics will be comprehensive—from the state of the music industry in Texas to the art of co-writing. Music distribution and publishing will be part of the discussion, and even how to consider food, beverage and hospitality within the context of performing. One panel will share insights from the perspective of bookers and managers; yet another will focus on the relationship between artists and their representatives.
Invaluable too, will be the opportunities for musicians and industry folks to personally mix and mingle at shows, or meet up at daily morning coffee mixers at Tannahill's. It's a rare occasion, to be part of the introductory year of a promising music event with a strong lineup of industry savvy behind it. The founders, two self-made artists dedicated to uplifting local talent, and even the setting—the Fort Worth Stockyards, home of many firsts for the state—are ideal, creating the perfect stage for Texas music to shine beyond the Lone Star state.
Photographs courtesy of the Fort Worth Music Festival & Conference