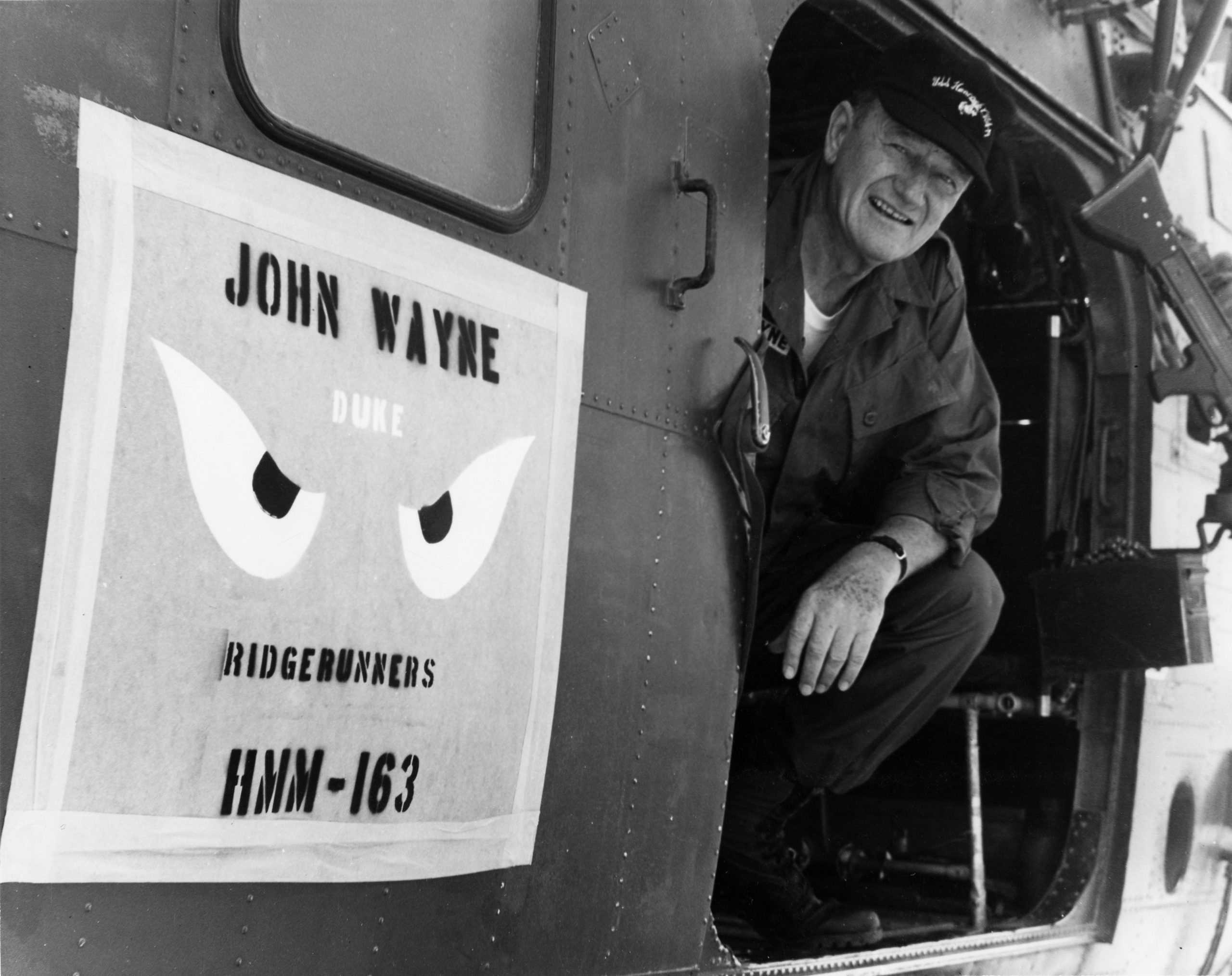 This Patriot Day, John Wayne Journal is at your service, remembering 9/11 and reflecting on Duke and the troops.
Written by Jenn Thornton
On September 11, America marks Patriot Day and National Day of Service and Remembrance, which commemorates the nearly 3,000 victims of the terrorist attacks on the World Trade Center, the Pentagon and onboard United Airlines Flight 93, and the spirit of unity and service that was shown in the immediate aftermath.
The first act of observation happened just days after the attacks. Proclaimed the National Day of Prayer and Remembrance for the Victims of the Terrorist Attacks on September 11, 2001 by then President George W. Bush, the event took place with a moment of silence on the South Lawn of the White House. A larger effort to  make September 11 a national day of mourning was introduced in the House in October of 2001. This eventually resulted in a resolution to declare September 11, 2002, as the first Patriot Day. Then, in 2009, September 11 was federally recognized as a National Day of Service and Remembrance—a galvanizing example of former President John F. Kennedy's rallying cry, "Ask not what your country can do for you, ask what you can do for your country" that each year sees millions of Americans engage in charitable service nationwide.
For John Wayne, every day was patriot day. Not in a holiday sense, but in the ways in which he dedicated his life to American ideals and values. He was staunchly conservative but willingly engaged with his ideological opposites, many of whom he called friends. He even engaged in good-faith debate with student activists at Harvard. Differences? Well, that's America, he reasoned. Wayne was especially unwavering in his support for the U.S. military. Wayne may have been a hero to millions, but to him, no one was as heroic as America's fighting man, and he used his platform in Hollywood to promote their service and sacrifice.
In the summer of 1966, when Wayne's film The Green Berets (1968) was still in the early stages of development, Duke visited the troops in Vietnam. While it was not the first time Wayne had met with members of the military—on base visits and with the USO—his interactions with the GIs were more personal. His time with the troops deeply impacted Duke, who went on to correspond with many of the men he met in Vietnam who later reached out to him.
Although Wayne died decades before 9/11, it's safe to assume that he would have done whatever he could to support the victims and their families, and the country at large. Just as the attacks on Pearl Harbor was a defining event in Wayne's era, 9/11 marks our own; both are turning points in American history. While it is vital to observe these moments, Wayne would also remind us to live the values of freedom, liberty and justice for all, each and every day.
If visiting New York City, the 9/11 Memorial & Museum is a sobering, don't-miss experience. Located at the World Trade Center, the museum tells the story of 9/11 through a variety of media and artifacts, as well as personal stories of loss, recovery, hope. Resiliency is also part of the American story, even—and especially—in our most harrowing chapters.