Theresa Wangia brings a gypsy spirit and Midwestern soul to the ancestry-inspired craft of Beltshazzer Jewels.
Written by Jenn Thornton
Theresa Wangia is a nomadic spirit, a Midwestern artist who creates fresh, talismanic designs with a distinctly American West vibe. Each creation has a boldness and individuality that runs rampant in the wide-open West. She calls these original baubles "Adornments for the Voyage," and yet, though extremely well-traveled herself, this homegrown Missourian is never far from her roots.
"My artisan heritage goes way back," says this daughter of St. Louis, Missouri, who hails from a creative clan. Theresa's parents—her father is a native Chicagoan of a somewhat mysterious mixed ancestry and a way with machines ("He made a motorcycle from scratch at age 15," she says), and her mother filled Theresa's childhood with hand-made terrariums and the folksy sounds of 1970s. Her mother's people are from various points in Europe. "Many of them were artists of some sort," Theresa shares. "Painters, bakers, musicians, writers, and a bootmaker." Not just any bootmaker, mind you, but Charles Frederick Luke, whose Seneca, Missouri-based cobbler shop, CF Luke's Boots & Shoes, churned out one-thousand pairs of shoes/boots annually for 52 years. A pretty good clip for the time, and a damn good business besides, with a run of legendary patrons.
"CF Luke made boots for Buffalo Bill Cody," Theresa explains "Jesse James came to his shop to get his shoes repaired. He also made shoes for the Native American Indians who settled in the Ozark hills." Theresa's great uncle, meanwhile, was a metalsmith who made ornamental leather and bolo ties. "Ancestry, culture, nurture, and nature all play an important part in our lives. I cherish the times back in the 1970s that helped shape me into the person I am today…my love for the arts, music, nature, and the culture of good ole Americana!"
Not only is Theresa a born artist— "I have always loved art! It's in my DNA"—she sees beauty everywhere, having lived and worked abroad has a model. "Traveling granted me a different viewpoint into various cultures," she says. "My heritage from both sides of the tracks, literally speaking, gave me the starting point into something diverse and different from the norm. That's why in the U.S., we are the melting pot. All the different blended cultures create a pretty cool sauce!"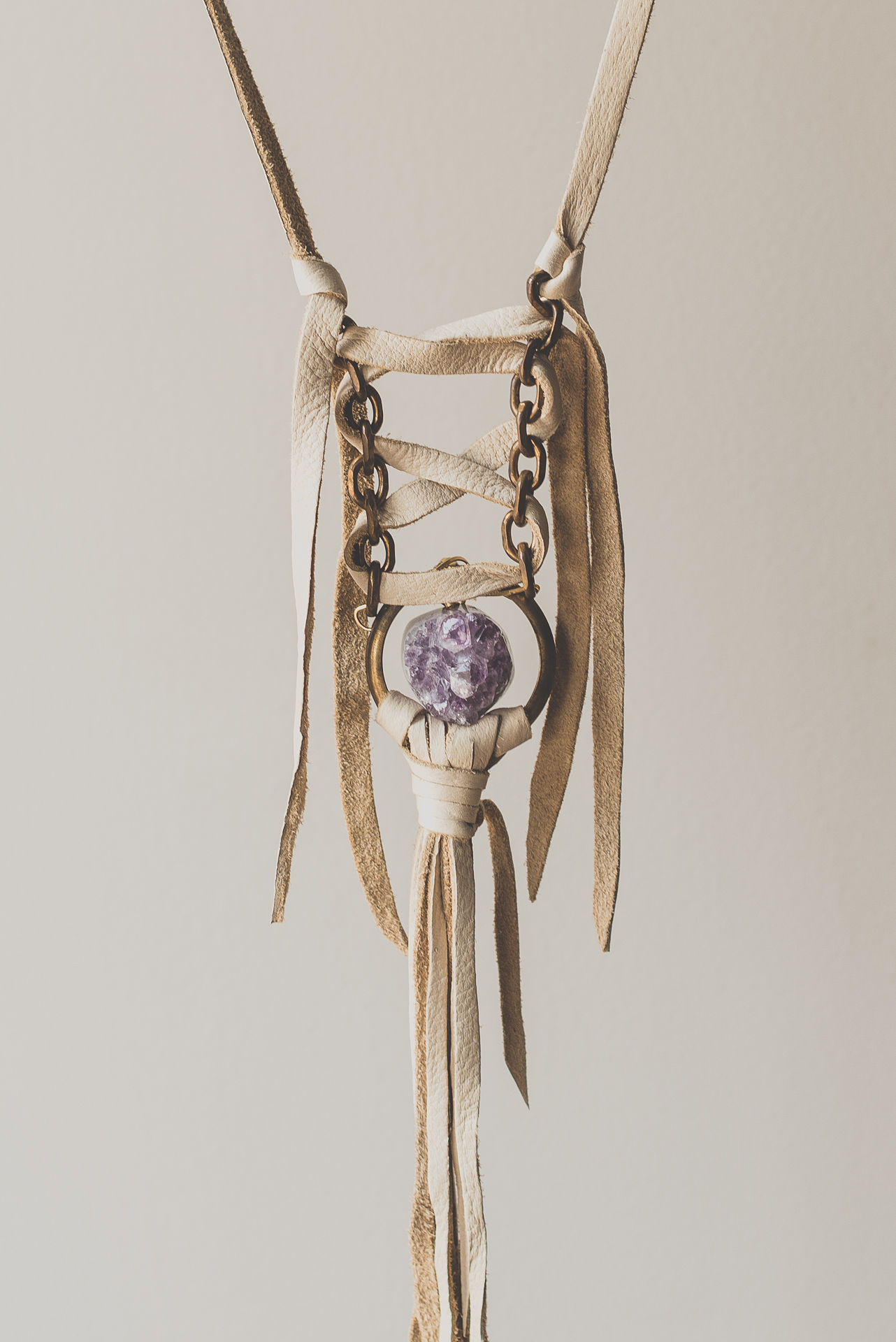 The same description applies to Theresa's earthy and organic creations, which she infuses with "a spirit of adventure." They are not of one place or one point of view, but of many, combining contrasting elements from a fusion of cultures. African beadwork. Bold stones. Chunky chains. Rich, buttery soft, earth-colored leathers. "I love to mix the old with the new!" she says. "Sometimes two very different elements make the perfect match!"
Take Theresa and John Wayne. Different people from different generations, and yet, both are Midwest originals (Wayne was born in Winterset, Iowa) and cut from an artistic cloth. What, then, if placed in a time machine, would the artisan make the actor?  She gives this much consideration. Reflecting on the bracelet gifted to Wayne by the Montagnard people of Vietnam, which he wore while filming The Green Berets, Theresa says: "I would not want to take away from this very special bracelet." Hats, on the other hand, "played a role in John Wayne's iconic Western legacy on and off screen," she notes. Therefore, "I would be such an honor to create a hatband for one of his western hats! A simple brown leather band with some tooling, small beads, and a small feather charm," a reminder to "spread your wings and fly!"
So long as there is a place to land. "You know, after so many years abroad, returning to St. Louis made me want to dig deeper into my family history," because "our history tells a story about who we are and who we choose to be." For Theresa, "I am God's child first and foremost," she says. "Secondly, I am my mother and father's child, and thirdly, I am an American born and bred. I am blessed to have been able to travel and live abroad and even more blessed to again call St. Louis my home."
Theresa will come full circle this fall when she heads back to Milan, Italy—the site of her first trip abroad—to present a design project representing the four elements of Earth, Water, Air and Fire at Milano Jewelry Week. "There are so many beautiful things on the horizon for Beltshazzar Jewels. Each day is another opportunity to shine!"
[Photos courtesy of Theresa Wangia. On the home page: Tawny Coral Tassel Necklace. Photo: Patrick Lanham]