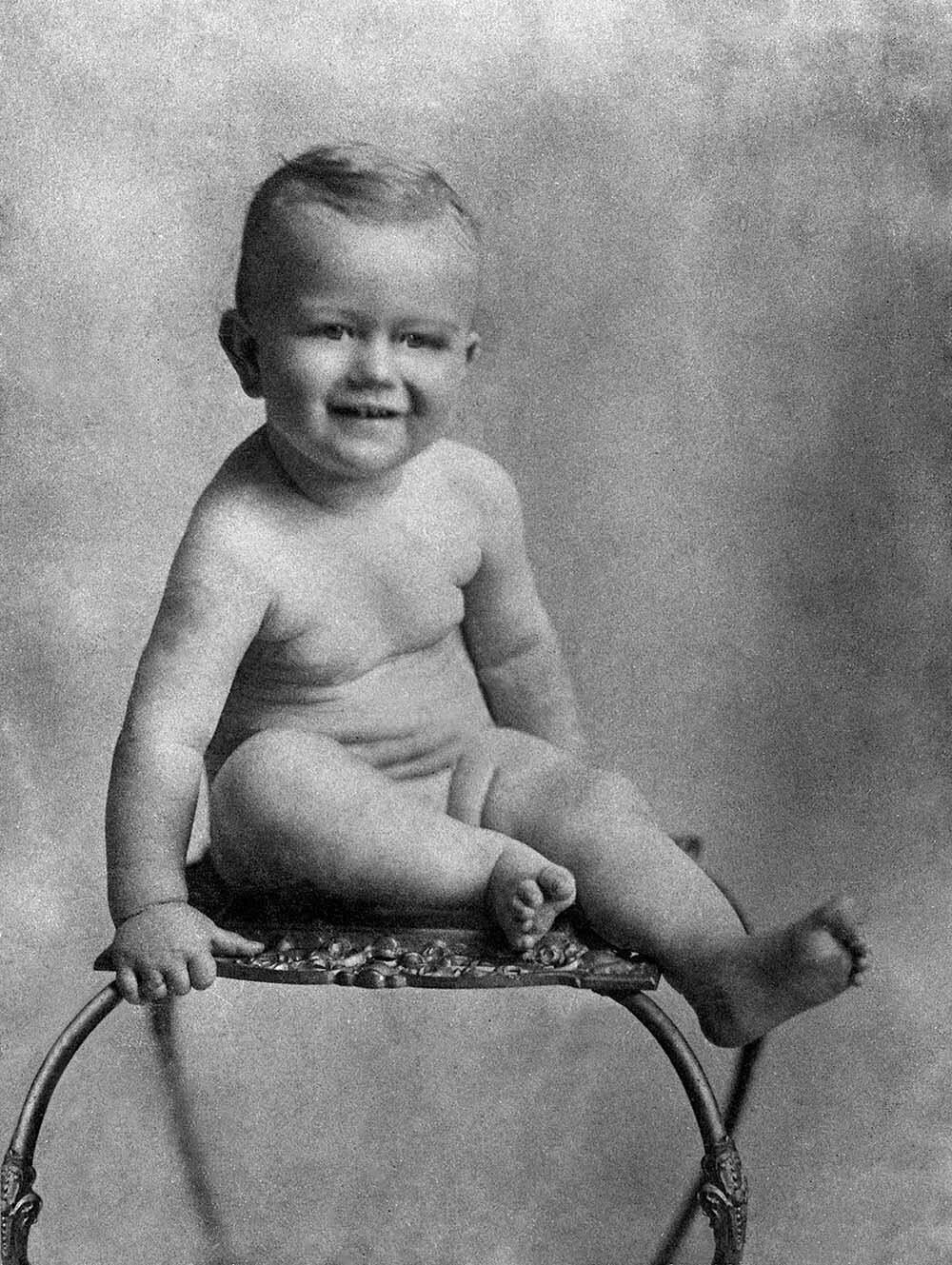 Marion Robert Morrison is Born
Wayne was born Marion Robert Morrison in Winterset, Iowa. The local paper, Winterset Madisonian, reported on page 4 of the edition of May 30, 1907, that Wayne weighed 13 lbs. at birth.
Living in Iowa
While growing up in Iowa, stories
indicate Marion's love of sports began at an early age. One of his favorite pastimes was playing football with his father, who had played college football. In December 1912, Marion's brother, Robert Emmett Morrison, was born.
The Morrisons Move West
Not long after the birth of Marion's brother, Robert, the Morrison's decided to make the move west to California. Stories indicate Marion's father developed a health ailment, and it was suggested a dry climate might help improve his condition.
The Nickname "Duke"
In 1916, the Morrison family moved to Glendale, California. The small town was an idyllic spot for the Morrison family with its temperate climate and bustling yet quaint community. It was while living in Glendale that Marion acquired the nickname, Duke. The Morrison's dog Duke, an Airedale, was Marion's constant companion. Marion would visit the local firehouse accompanied by his dog. The firefighters knew the dog's name and started calling Marion "Duke" as well. The name stuck.
Marion Morrison's High School Years
A member of the class of 1925, Duke Morrison attended Glendale High School, where he was active in sports and school activities. Duke played football as a member of the Class B and champion Varsity teams and excelled as a 170-pound guard. Duke thrived at academics, earning the Bronze Honor Pin and contributing to the school newspaper, the Explosion, as a sports writer. Active in student government, Duke was junior class representative and vice president, and later elected president for the class of '25. Duke also enjoyed social activities, serving as chairman of the senior class dance and reception committee.
Duke Morrison at University of Southern California
Duke's athletic ability as a 170-pound guard and his academic excellence earned him a college scholarship to the University of Southern California (USC) in Los Angeles, California. He was active in social activities, joining Sigma Chi fraternity, and continued his academic success studying pre-law. While at USC, Morrison, along with a few of his football teammates, worked part-time at what was then Fox Film Corp. Morrison worked as a member of the swing gang moving set props, and as the occasional extra, often playing a football player. During 1926 and 1927, Morrison appeared on screen as a Yale football player in "Brown of Harvard" (1926) and a USC football player in "Drop Kick" (1927).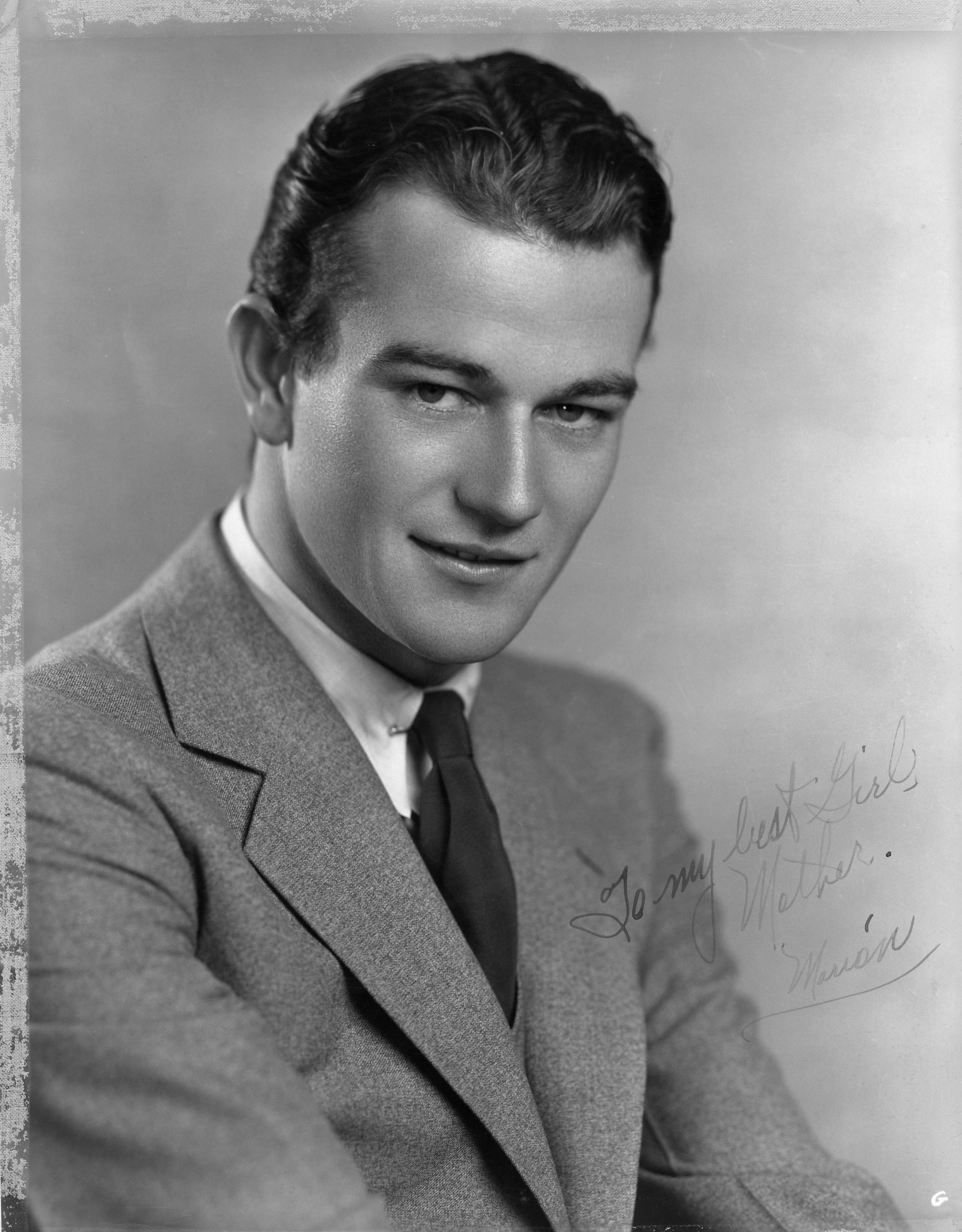 Duke's Hollywood Entry
In the late 1920s, while Duke was employed as a prop man and as an extra in pictures, he was first introduced to those individuals who would become his closest colleagues, including John Ford. Morrison's first job for John Ford was on the set of "Mother Machree" (1928), herding geese.
Introducing John Wayne in "The Big Trail"
With a few years of property and extra work under his belt, young Duke caught the eye of director Raoul Walsh. Walsh, who by the late 1920s was already an accomplished actor, writer, producer, and director, saw something in the tall young actor and cast him in his first starring role as Breck Coleman. The film was "The Big Trail" (1930). It was on this set that Marion Morrison acquired the name John Wayne, which he would use for the remainder of his personal and professional life.
Duke Hones His Craft
Though his first starring role did not instantly catapult Wayne to stardom, it did give him the opportunity to hone his craft and acting style by working on a stunning number of films – more than 70 – throughout the decade. [From playing a bank employee to Barbara Stanwyck's Lily in the 2005 National Film Registry's "Baby Face" (1933), to boxing his friend Ward Bond in "Conflict" (1936),] His star continued to rise as films of this time period brought him to the attention of the movie-going public, especially across
the heartland of America.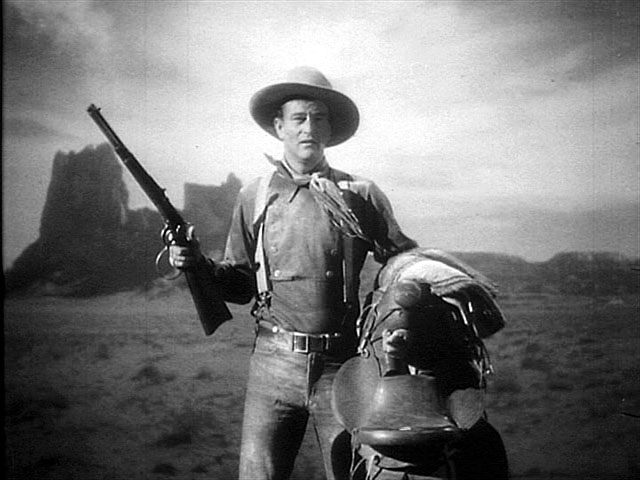 The Ringo Kid in "Stagecoach"
The end of the decade brought the opportunity to work with John Ford again, this time as a star in "Stagecoach" (1939), the first John Ford movie filmed in Monument Valley. After working at a breakneck pace in film for more than ten years, Wayne's on-screen style and unique delivery were established. Probably one of the greatest entrance scenes in the movies, Wayne steals the movie with his physical presence in the role as the rifle-toting Ringo Kid.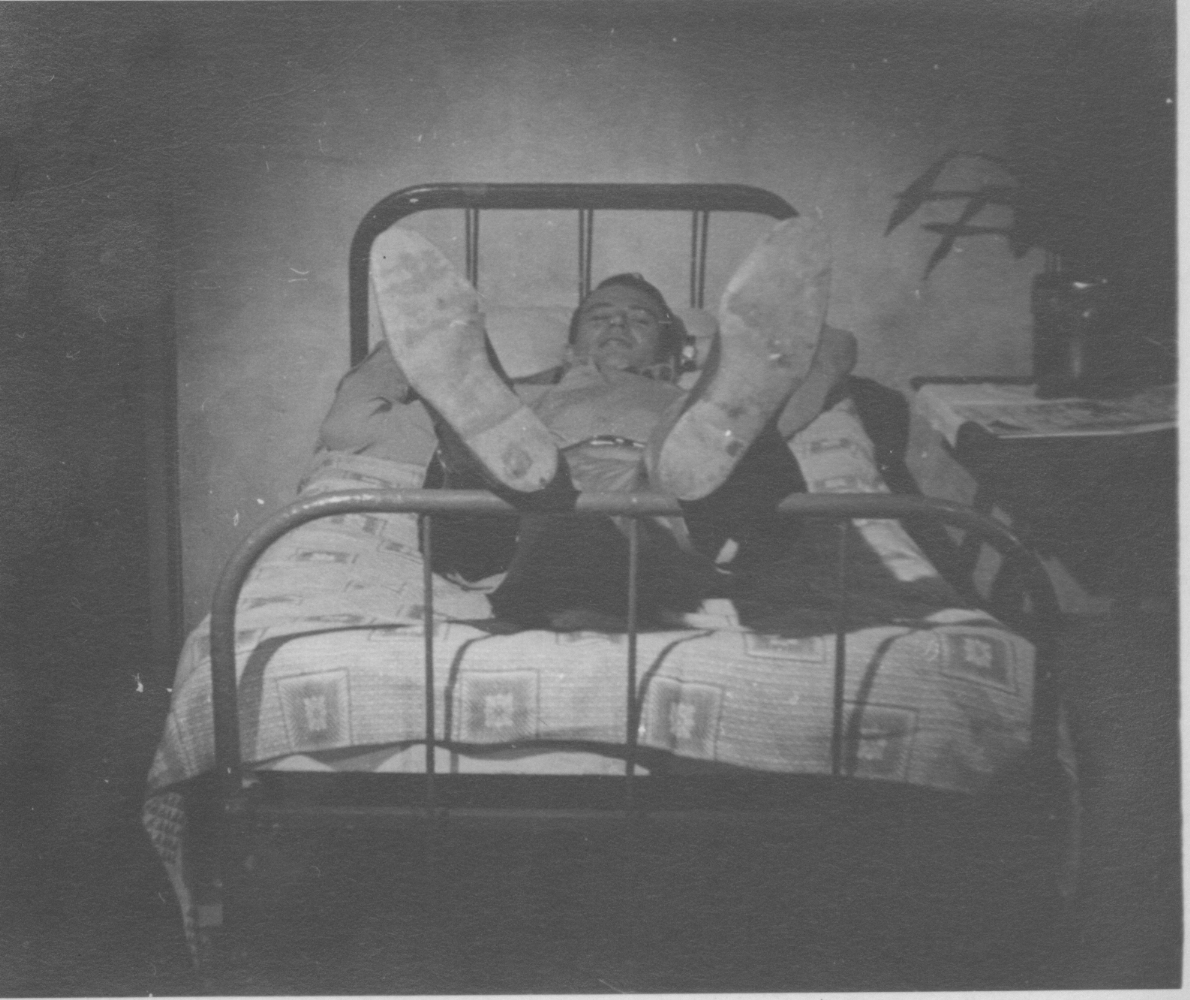 Making of an Icon
The 1940's for America was punctuated with conflict and major milestones in U.S. history. Wayne was an avid and proud supporter of the U.S. military. John Wayne made many trips to the front during World War II as part of the newly created United Services Organization (USO).
Wayne as Producer
"Angel and the Badman" (1947) found Wayne in the role of both actor and first-time producer. As bad boy Quirt Evans, Wayne stars along with Gail Russell and regular costar Harry Carey and Bruce Cabot. It was the first of many films in which Wayne would work on both sides of the camera under the banner of his own production company.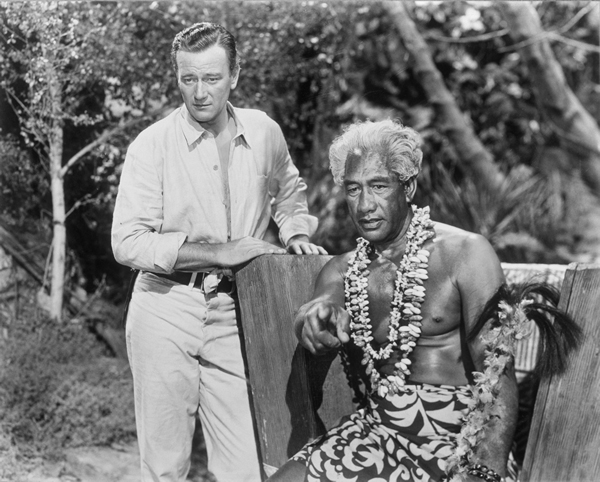 Talented Co-Stars
Whether portraying on-screen a Captain, Colonel, Sergeant or Lieutenant, some of Wayne's most memorable and original performances were during the 1940's. Wayne continued to work with diverse and talented co-stars, including Henry Fonda, Shirley Temple, Anthony Quinn, Donna Reed, Harry Carey and his son, Harry Carey Jr., Ben Johnson, Victor McLaglen, and Montgomery Clift. As Captain Ralls in the 1948 film "Wake of the Red Witch" Wayne appears on screen again with co-star Gail Russell, an another Duke – surfing legend Duke Kahanamoku.
Star of the Decade
Beginning in the 1950's, Wayne firmly held a position in the top ten box office poll,
where he would remain for more than 20 years. He continued to work at an
extraordinary pace, often completing five to seven films in a single year.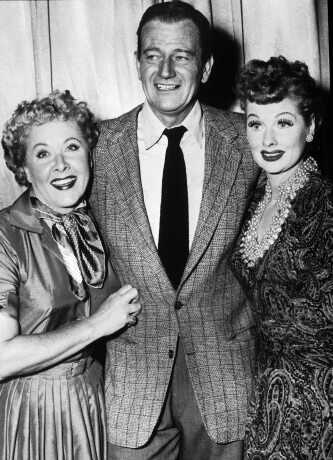 I Love Lucy
Part of the golden age of television, the 1950's brought significant entertainment
programming directly to American's in their homes, including the "I Love Lucy" with Lucille Ball and Desi Arnaz and later, "The Lucy Show." John Wayne made several appearances on the Emmy award-winning series, often playing himself as a victim o humorous plot lines.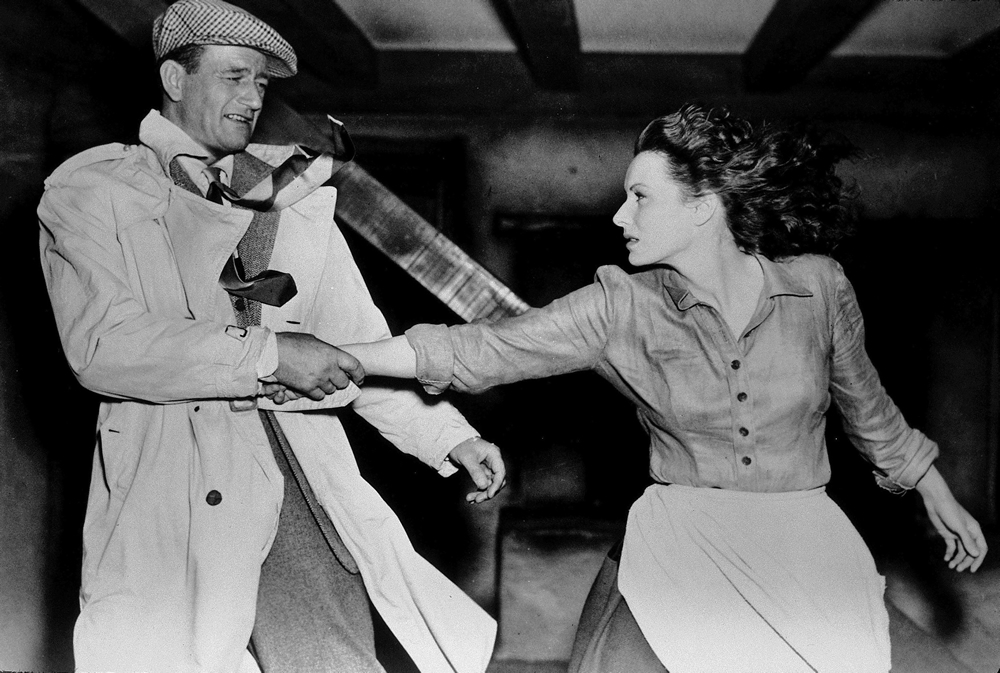 Wayne and Maureen O'Hara
In the early 1950's, Wayne and co-star Maureen O'Hara made their first on screen appearance together in the final installment of John Ford's cavalry trio, "Rio Grande" 8 (1950). The stars would appear onscreen together several times over the next twenty years. Whether as Kirby and Kathleen Yorke ("Rio Grande," 1950); Sean Thornton and Mary Kate Danaher ("The Quiet Man," 1952); Spig and Min Wead ("Wings of Eagles," 1957); George Washington and Katherine Gilhooley McLintock ("McLintock!" 1963); or Jacob and Martha McCandles ("Big Jake," 1971) – the pair always delighted motion picture audiences with their memorable and witty theatrical performances.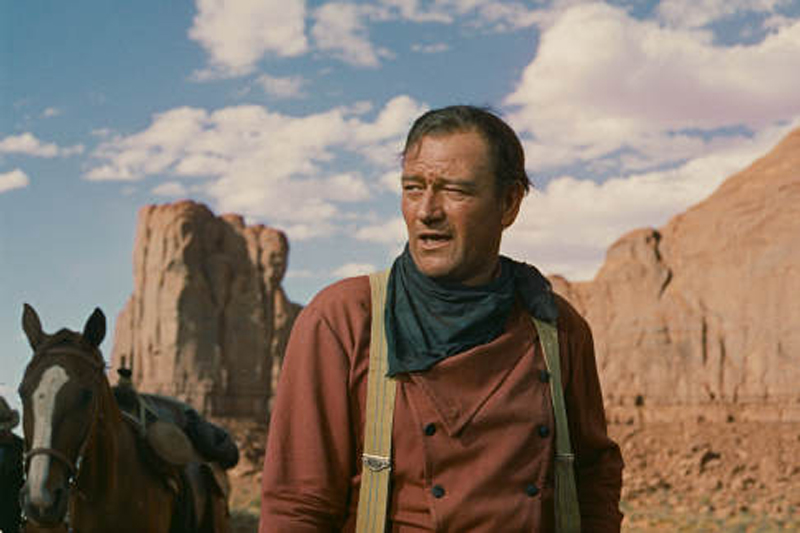 The Searchers
John Ford and John Wayne are one of the great actor/director collaborations in history. The pair began working together as early as the 1920's, and they again joined in 1956 to film The Searchers. The Searchers is widely considered an American masterpiece of filmmaking, and the most-revered film of director John Ford. With spectacular VistaVision cinematography in Ford's beloved locale, Monument Valley, the film captures both the beauty and the danger of isolation in the western frontier.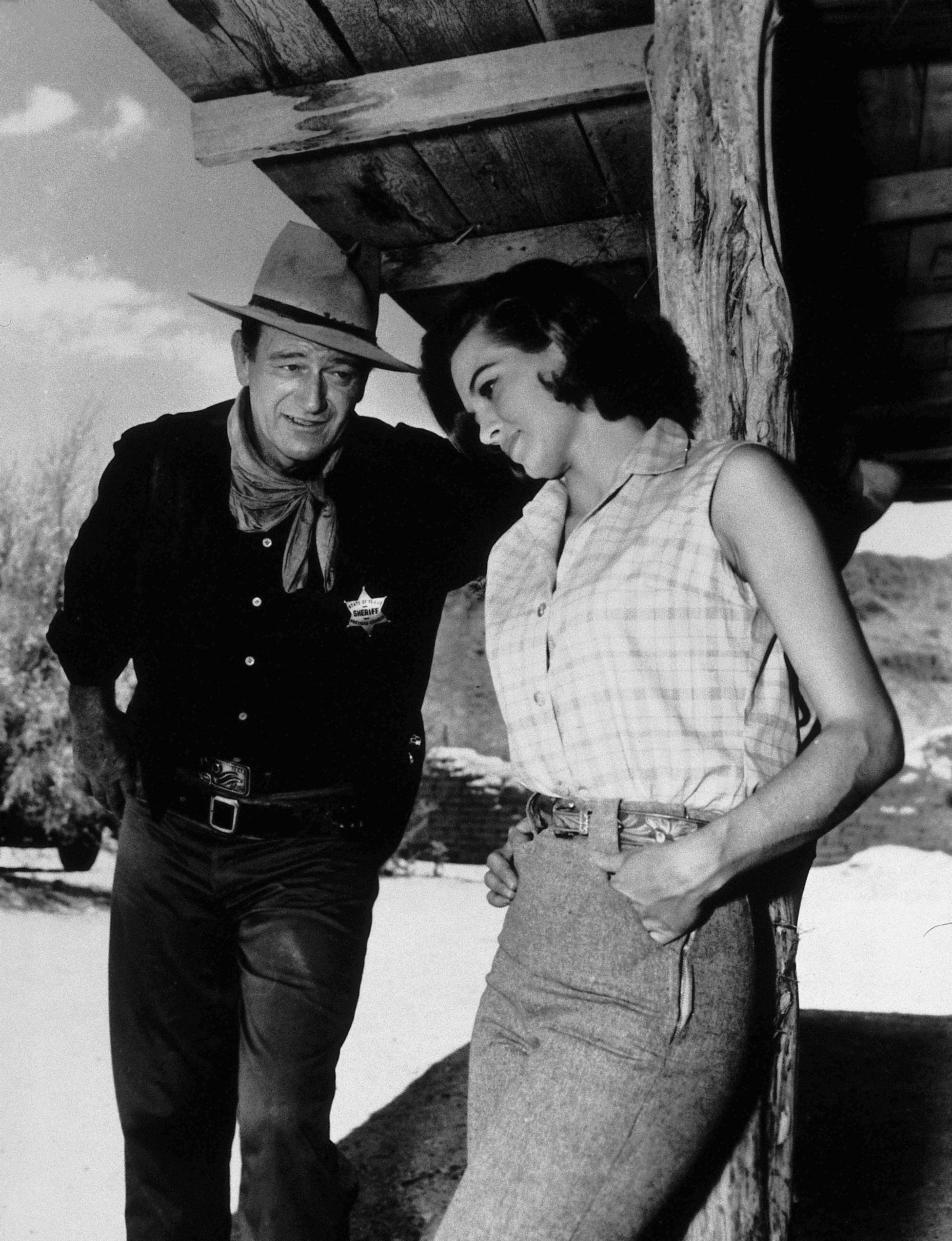 Rio Bravo
The all-star cast in "Rio Bravo" (1959) paired Wayne with new co-stars, including 19-year old Ricky Nelson and newcomer Angie Dickinson. Even very early in his career, Wayne was able to work with a talented and diverse group of co-stars, many of whom went on to enjoy prominent careers in motion pictures, such as Academy Award winners Walter Brennan, Loretta Young, Gary Cooper, Sophia Loren, and Jimmy Stewart.
It's All in the Family
Under the banner of Wayne Fellows Productions, and later his own production company named after the ship in "Wake of the Red Witch," Wayne produced a number of memorable and award winning motion pictures throughout the 1950's, 1960's and 1970's. In 1960, Wayne produced, directed and starred in "The Alamo," which went on to receive seven Academy Award nominations, including for best picture, at the 33rd annual Academy Awards.
In addition to working with his longtime colleagues and co-stars on these productions, Wayne maintained a family environment on set throughout his career. With seven children, he immensely enjoyed the company of his family on set as visitors, actors and as members of the production team. Throughout the last two decades of his career, Wayne's children appeared in films such as "Rio Grande," "The Quiet Man," 'The Conqueror," 'The Searchers," "The Alamo," "Donovan's Reef," "McLintock," and "Big Jake." The picture shown is John Wayne on the Rio Grande set with his son Patrick.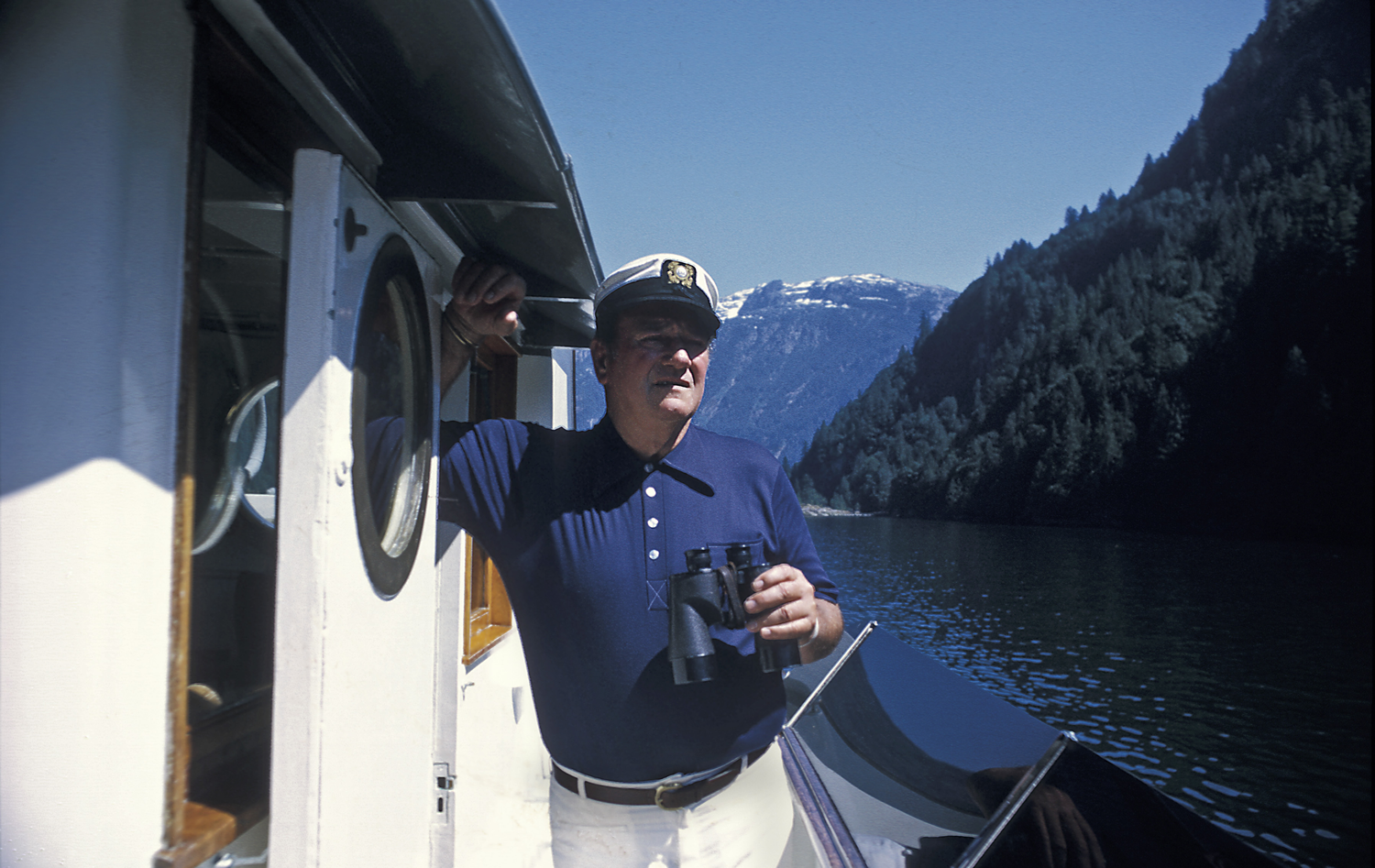 On the Open Water
Wayne's greatest pleasure was spending time with his family and friends, especially aboard the Wild Goose. Originally a converted wooden naval minesweeper (USS YMS 328) christened and launched by the U.S. Navy on December 19, 1942, deep-sea fishing, swimming, water skiing and card games with friends and family took center stage. Upon moving to Newport Beach, California where he would live for nearly two decades, the Wild Goose became a familiar site in Newport Harbor.
Wayne in Africa
Filmed in the Arusha National Park in Tanzania, director Howard Hawks' "Hatari!" (1962)
remains a stunning historical record of the region as Wayne and his co-stars bring the beauty and adventure of east Africa to the silver screen. The film proved to be significant for the region, bringing never-before-seen images and sparking interest in the region as a tourist destination. Nominated for an Academy Award for best cinematography, the film also became popular for Henry Mancini's composition, "Baby Elephant Walk." The picture shown is of John Wayne with his daughter Aissa sitting on a baby elephant during the filming of Hatari!
Lung Cancer
Considered at the time to be a taboo topic, Wayne was encouraged to keep news of his lung cancer diagnosis private. Unconcerned with the impact on his image or career, he didn't heed such warnings, telling the press, "there is a hell of a lot of good image in John Wayne beating cancer." Though he would lose a lung in battling the disease, it did not stop him from continuing with physically challenging and demanding roles – from fighting oil well fires in "Hellfighters" (1968) to fighting on the front lines in "The Green
Berets" (1968) – portrayals difficult with two lungs!
Wayne became a passionate advocate for early checkups, doing numerous public service announcements for the American Cancer Society, as shown in this magazine.
26 Bar Ranch
Along with this longtime friend Louis Johnson, Wayne owned a 39-mile working purebred Hereford cattle ranch in Arizona, the 26 Bar Ranch. It raised more than 400 bulls each year, often winning at the big stock shows. Wayne frequently attended the Hereford production sales and often made the opening day welcome speech at events.
True Grit
As the cantankerous one-eyed Marshall Rooster Cogburn, Wayne and his co-stars
provided award winning performances in Henry Hathaway's western adventure, "True Grit" (1969). Wayne's performance garnered him a second Time Magazine cover (August 8, 1969) along with numerous awards and nominations: best actor at the 42nd annual Academy Awards; a Golden Laurel Award for best action performance; a Bronze Wrangler for best theatrical motion picture; and a Golden Globe for best performance by an actor in a motion picture drama.
America Why I Love Her
Back in the 1930's his diverse roles found Wayne cast as a singing cowboy Sandy
Saunders in the 1933 film, "Riders of Destiny." Stories indicate that Wayne asked the producers to find a cowboy who could actually sing – a new star and singing cowboy named Gene Autry took his place. In spite of this, Wayne would later garner a Grammy nomination for his spoken word album "America Why I Love Her."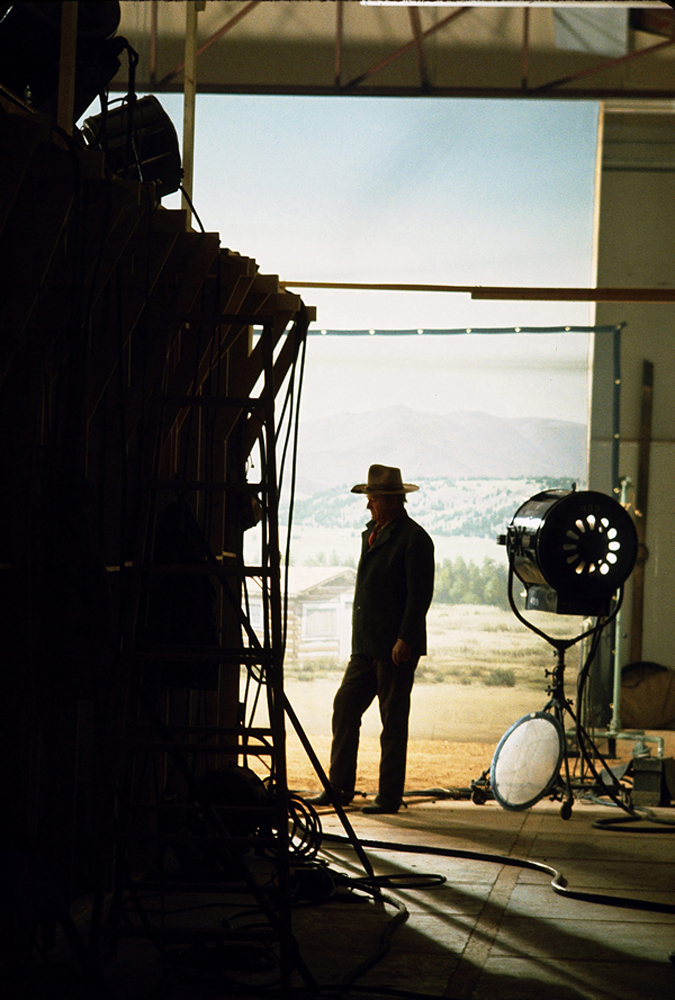 Duke's Final Movie
True to his word about never retiring, at 65 years old Wayne continued to work in motion pictures, starring in nearly a dozen films in the last decade of his life including such memorable titles as "The Cowboys" (1972) and "Rooster Cogburn" (1975). In his final film "The Shootist" (1976), Wayne reunited one last time with a few of his former costars including Jimmy Stewart, with whom he starred 14 years earlier in "The Man Shot
Liberty Valance;" Lauren Bacall ("Blood Alley," 1955); and Richard Boone ("The Alamo" (1960), "Big Jake," 1971).
Following his stomach cancer diagnosis in 1978, Wayne, a longtime advocate for cancer prevention and treatment tasked his family to use his name to find a cure. After a long and prolific life, Duke succumbed to the disease on June 11, 1979 at the age of 72.
Today, the John Wayne Cancer Foundation continues the fight against cancer in his name.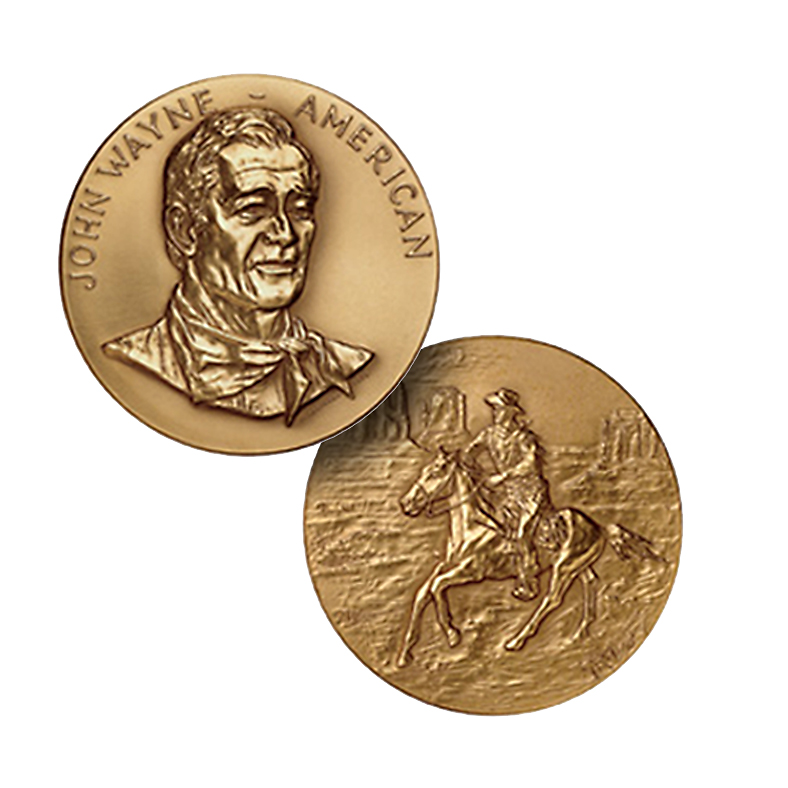 Congressional Gold Medal
Approved by Congress on Wayne's 72nd birthday, the Congressional Gold Medal inscribed simply "John Wayne – American," was presented to John Wayne's family in March 1980. Among friends offering testimony in support of the Congressional bill was a longtime friend and former co-star, Maureen O'Hara Blair.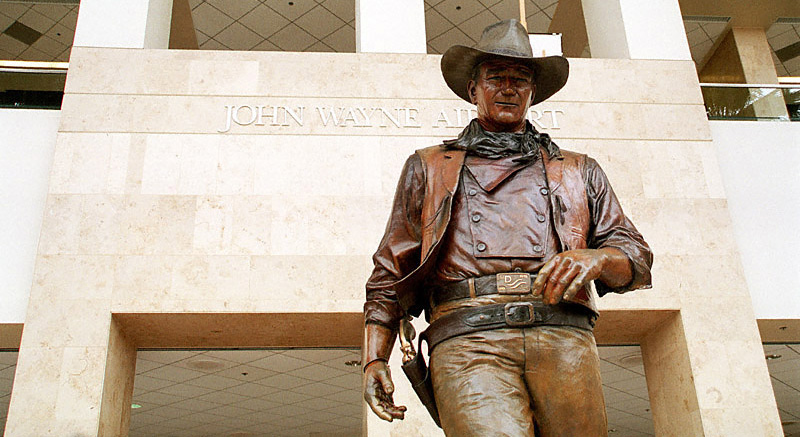 John Wayne Airport
In his honor, Orange County Airport was renamed "John Wayne Airport" in June 1979. Visitors are greeted by the nine foot heroic bronze by artist Robert Summers. In a western hat, bib shirt, famous "D" brand buckle and right hip holster, Wayne's signature walk and determined expression allow visitors to fondly remember one of the great motion picture stars of the 20th century.