John Wayne maintains his A-list Hollywood status in the midst of a transforming America—acting, producing and vocally defending what he holds dear.
Written by Constance Dunn
John Wayne was a true child of the 20th Century, having been born in 1907 and a high-profile Hollywood star for nearly all of it. The sea change of the 1960s was unprecedented in the century, and brought with it a series of cultural, social and even technological transformations that would bear permanent imprint upon America. During the 1960s, Wayne would continue his career as an actor, director and producer while widening his scope as a public figure, advocating for values he held dear, whether they synched with the current mood of the day or not.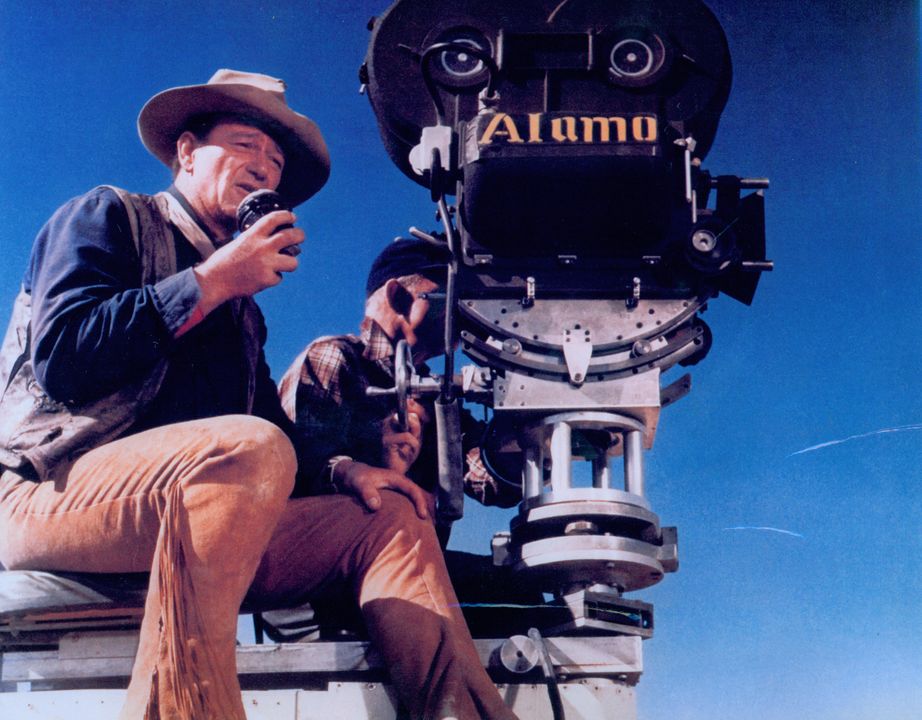 Creatively, he came out swinging at the start of the decade by directing and starring in The Alamo (1960), a Technicolor epic produced by his Batjac Productions. A labor of love that, for Wayne, was 20 years in the making and involved a great deal of personal financing—and when finally released, was the 5th highest grossing movie of the year. Like his first producer outing six years earlier, The High and the Mighty (1954), it was also a critical success, receiving six Academy Award nominations.
As an actor, Wayne's 1960's output was commendable, despite a 1964 diagnosis of lung cancer and subsequent surgery. In sheer numbers, the amount of films Duke starred in rivaled that of the 1950s, his most commercially successful decade of a then four-decade career. Tastes were shifting, however, reflected in hits like Psycho (1960), Who's Afraid of Virginia Woolf? (1966) and Midnight Cowboy (1969), which introduced new mainstream genres like the psychological horror film and the gritty melodrama, and themes like the anti-hero as hero.
Yet Wayne fans still flocked to theaters to see him in box-office successes like The Man Who Shot Liberty Valence (1962), McLintock! (1963) and True Grit (1969), for which he won his sole Academy Award for Best Actor. (Years after his 1979 death Wayne's gold statue would be discovered by his son Ethan, wrapped in a bath towel at the actor's Newport Beach, California home.)
Wayne also increasingly became more visible in politics, though his activism was nothing new, having served four terms as president of the anti-Communist organization Motion Picture Alliance for the Preservation of American Ideals starting in the late-1940s. As American involvement in Vietnam grew during the 1960s, Duke's support for the American troops involved in the conflict was expressed in The Green Berets (1968), a controversial film that was also one of the biggest box-office hits of the year. A political conservative, he campaigned for his friend Ronald Reagan during a successful 1966 bid for Governor of California and supported both of Richard Nixon's presidential runs. Though Wayne was a stalwart member of the political Right, in typical good-natured diplomatic fashion he sent Democrats JFK, LBJ and Jimmy Carter the following telegram upon their White House victories: "Congratulations, sir, from one of the loyal opposition."
Like in previous decades, Wayne was discerningly using his star power to advocate for that which he believed in—and in the 1960s, there was much for him to advocate for, and not just politically. When initially diagnosed with cancer, for instance, Duke—known to millions as a tough-as-nails man of action—was hesitant to share his condition with the public. He soon reconsidered and lent his name and face generously to cancer awareness, elevating a serious national health issue and inspiring others to openly share their diagnoses. It was the first step in what would be a sustained effort to eradicate the disease, continued to this day via the John Wayne Cancer Foundation. A few months after his lung cancer surgery, Wayne was back in the saddle in Durango, Mexico, starring as John Elder in The Sons of Katie Elder(1965). A card-carrying stunt man and consummate professional, Duke insisted on doing his own action scenes like gun fighting, horseback riding and repeatedly diving into the water. The show, like Duke, had to go on.