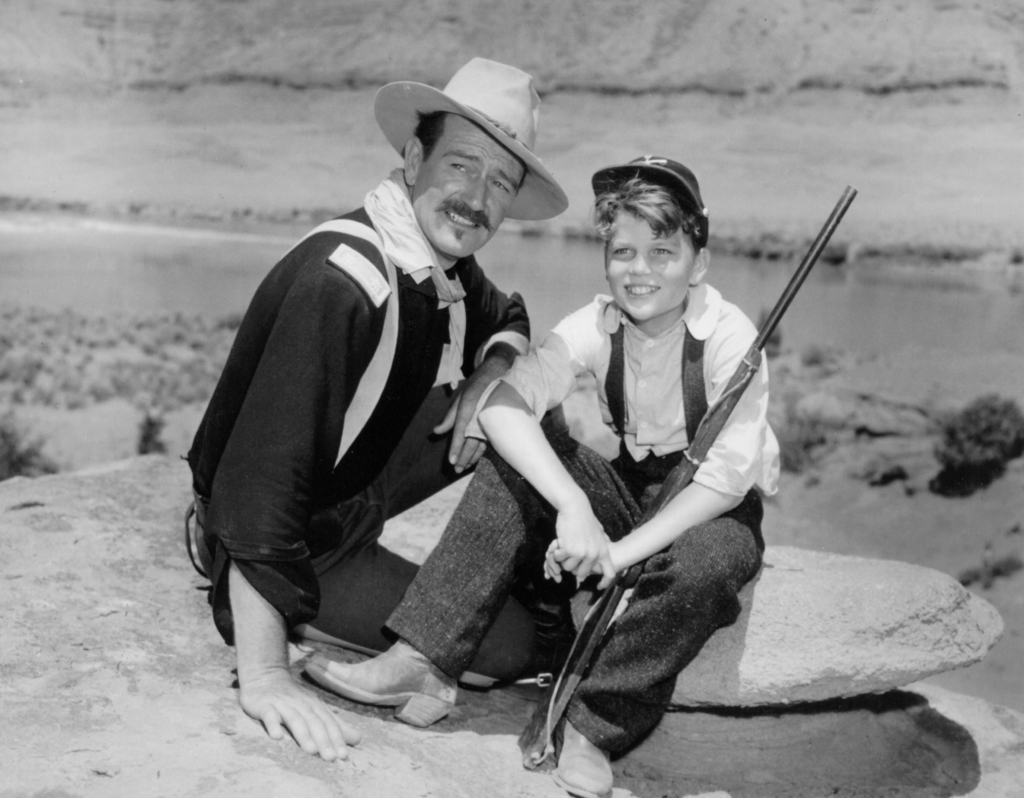 Duke's portrayal of heroes and fighting men earns him icon status in the U.S. and beyond.
Written by Constance Dunn
The 1940 Academy Awards were special for John Wayne. The John Ford-directed Stagecoach, which had Duke in the star-making role of outlaw Ringo Kid, won two awards and turned the spotlight on the former Marion Morrison, who had spent the prior decade starring in low-budget Westerns and learning from masters of his trade like Ford. The Western genre experienced a resurgence and studio heads, including those at Republic Pictures, where Wayne was under contract, clamored to sign him up for more. During the 1940s, Duke would star in 16 Westerns, from Dark Command (1940) to Rio Grande, released in 1950.
As the decade took hold, so too did American's involvement in World War II, and Duke soon became an omnipresent figure in military films shown here and abroad, playing leather-tough heroes, starting with Flying Tigers (1942), where he depicted a volunteer fighter pilot. Wayne starred in nine war films during the decade, his most famous being Sands of Iwo Jima (1949), which was lauded for its realism, and included actual battle footage. The film made a then-heady $5 million at the box office, and Wayne received his first Academy Award nomination for Best Actor.
Wayne's growing celebrity and ability to generate box-office bucks across film genres resulted in him flexing more creative freedom. Now in his thirties, Wayne was evolving as a performer and a human, too, spending his time spent volunteering during the war—whether entertaining and visiting troops overseas with the USO, or being a familiar face at the Hollywood Canteen, where a soldier could enjoy a dance with Rita Hayworth or dine on Thanksgiving turkey served by Duke—solidifying his dedication to America and its ideals. During the 1940s, Wayne's films increasingly reflected his personal beliefs—and his ever-deepening skill in portraying them—and they'd become recognizable the world over as John Wayne values, proxies of national ideals like rugged individualism and the triumph of good over evil.
As the 1940s came to a close, Ford and Wayne reunited in Monument Valley (where they had shot Stagecoach a decade earlier) to film She Wore a Yellow Ribbon. While the 1949 film showcases Wayne's tried-and-true hero archetype in Captain Brittles, there are emerging shades of mentor and guardian in the nuanced, father figure-like role. At the film's wrap party, Ford presented Wayne with a cake inscribed with the following: "You're an Actor." It would be hard to imagine higher praise from his beloved mentor and friend Ford, a man Duke first met on the Fox lot more than 20 years ago as a young man in college, who now knew him as an international icon—and artist.
The next decade would see John Wayne reach even higher heights of stardom while deftly navigating the shifting cultural and Hollywood landscape of the 1950s.
---
---