"I am an old-fashioned honest-to-goodness flag-waving patriot."
Often described as a Super Patriot by many who agreed, or also disagreed with him, John Wayne was hardly a close-minded type who wrapped himself in the flag and refused to listen to opposing points of view. As long as someone wasn't trying to shut down the opposition, he was all in favor of letting everyone voice their opinion on the issues confronting us as a country.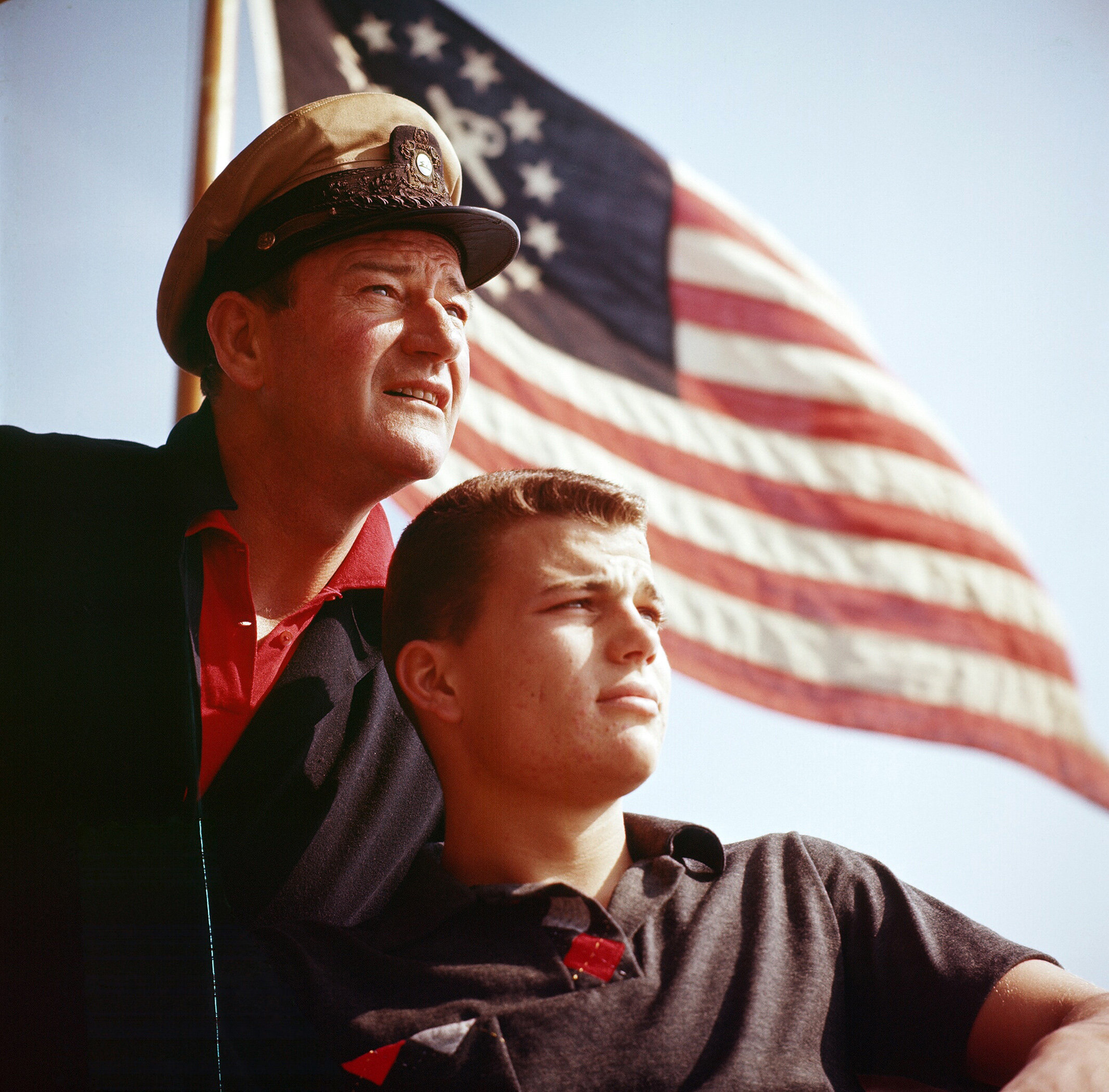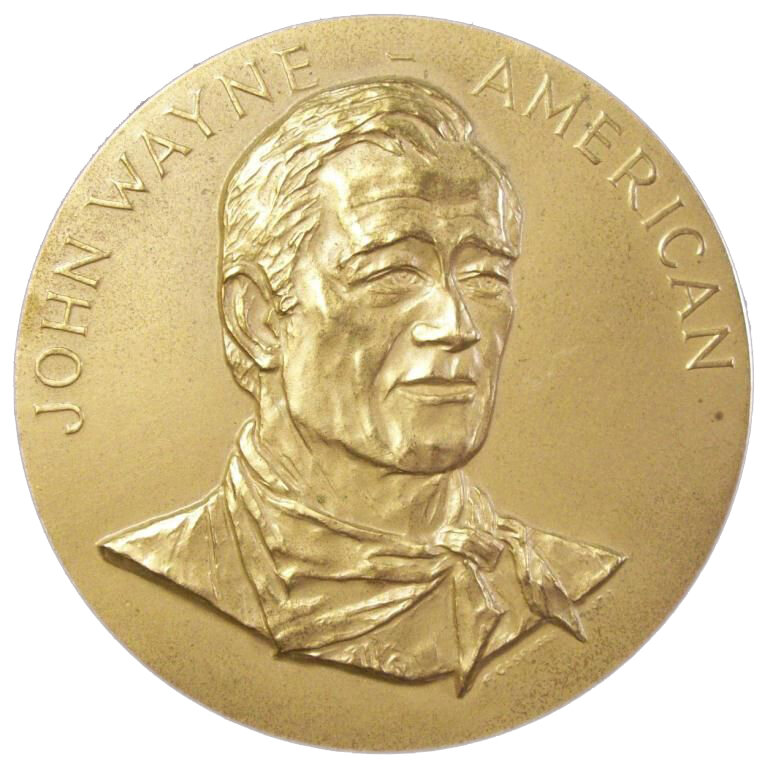 Nowhere was this more evident than in his frequent correspondence and trading of books with fellow actor and very liberal Democrat Paul Newman. Though they never worked together the two superstars would frequently send each other the latest political tomes representing their respective conservative and liberal positions. Many outspoken Hollywood liberals including Katherine Hepburn and Orson Wells adored John Wayne.
A self-made success from a poor family Wayne sized up then-Senator John F. Kennedy as a privileged elitist, New England playboy who didn't take his position very seriously. Yet, when Kennedy took the oath of office as President Wayne made a point of sending a heart-felt telegram telling the new President that he greatly admired his, "Ask not what your country can do for you, but ask what you can do for your country," inauguration speech.
Democratic President Jimmy Carter was a huge John Wayne fan and despite their differences on political issues, when Carter was elected President Wayne sent a telegram congratulating him, only half-jokingly referring to himself as a member of the "loyal, and I do mean loyal opposition." Only days before Wayne passed away in 1979 President Jimmy Carter made a point of visiting Wayne at his hospital bedside at UCLA.
John Wayne's personal patriotism was never idle bluster. Few would ever know but in 1943 he flew to Washington D.C to volunteer in person for service in the Office of Strategic Services – the CIA of World War II. Despite a freeze on new officers the unit's commanding general Medal of Honor recipient William H. Donovan eventually found a civilian spot for Wayne. Under the official guise of a USO tour to the Pacific, he was to observe and report on the morale and fighting spirit of the officers and men then serving under General Douglas MacArthur in the Pacific. Inter-service rivalries prevented the O.S.S. from operating in MacArthur's command area.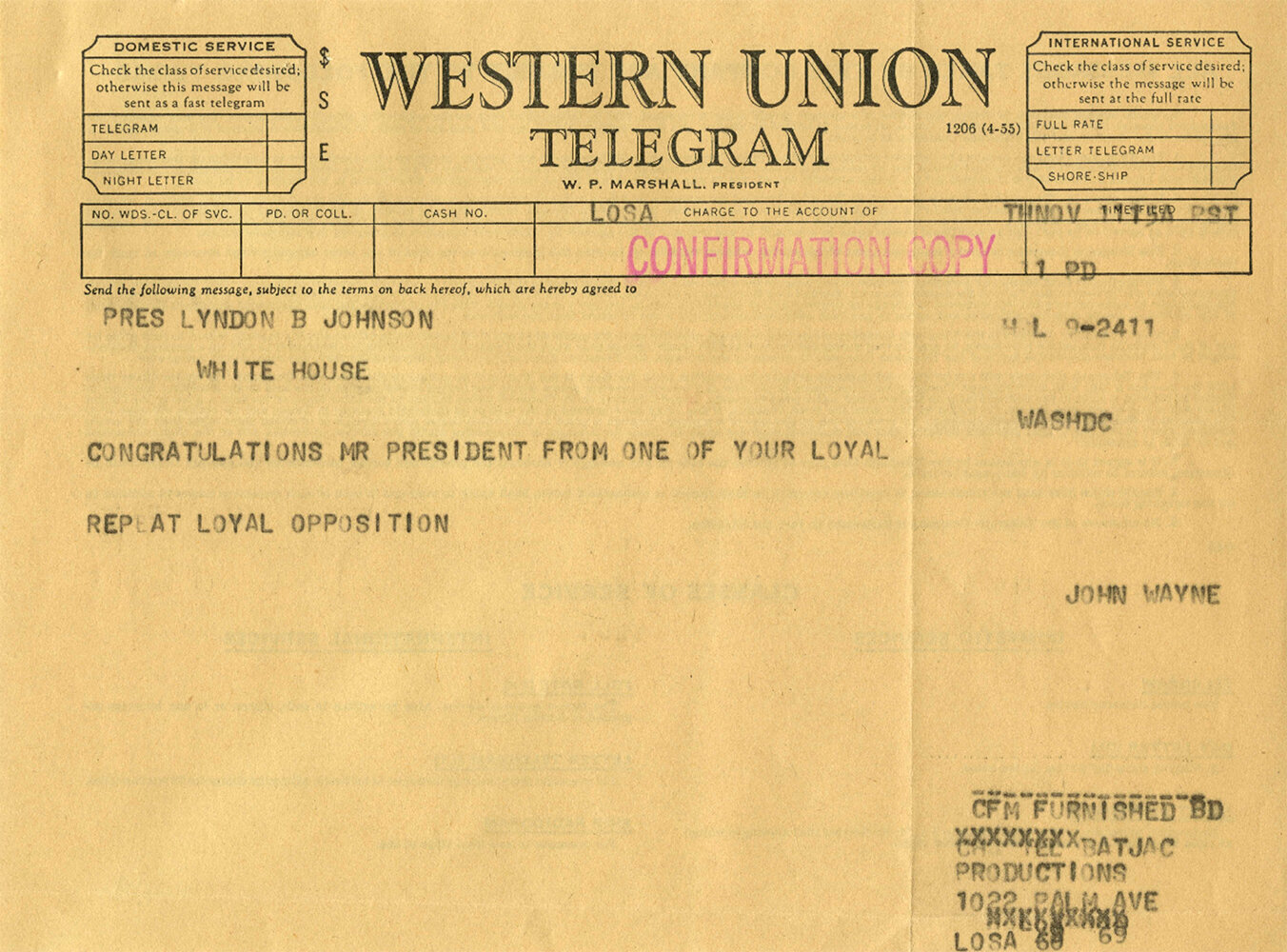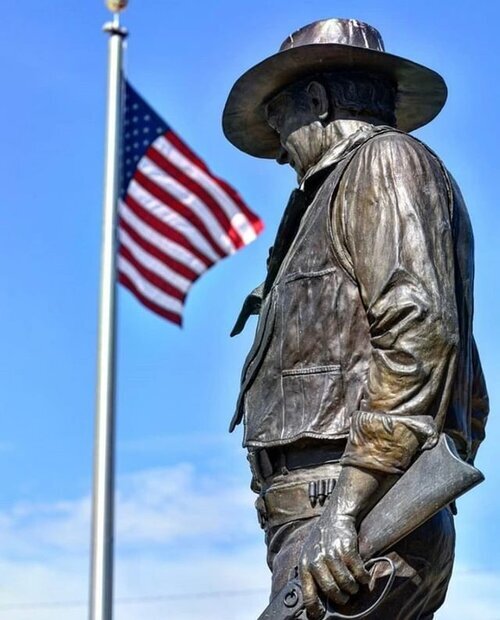 Wayne quietly cajoled his way into dangerous active combat areas where Japanese bombing runs and troop infiltrations occurred daily. In 1980 Wayne's oldest son Michael interviewed retired U.S. Army General Fred Stofft, an old high school friend of his father's and Stofft's World War II adjutant Keith Honaker. Both men had served on New Britain in the South Pacific during Wayne's time in that combat zone. Then Lt. Colonel Stofft remembered that Wayne had hitched a ride on a PT-boat, sans the other USO tour members to come see his old friend. During Wayne's visit Stofft wound up leading several landing crafts of infantrymen to take out a troublesome Japanese artillery location. As he positioned himself behind the gate of the landing craft Stofft remembered, "I turned around and there alongside of me was Duke. And I said, 'What the devil are you doing here? And he said, 'I want to go and see what's going on.'" "Well, if he'd had been hurt we'd have been in trouble because he had no business being up in that area anyway… There was actual fighting and he was part of that."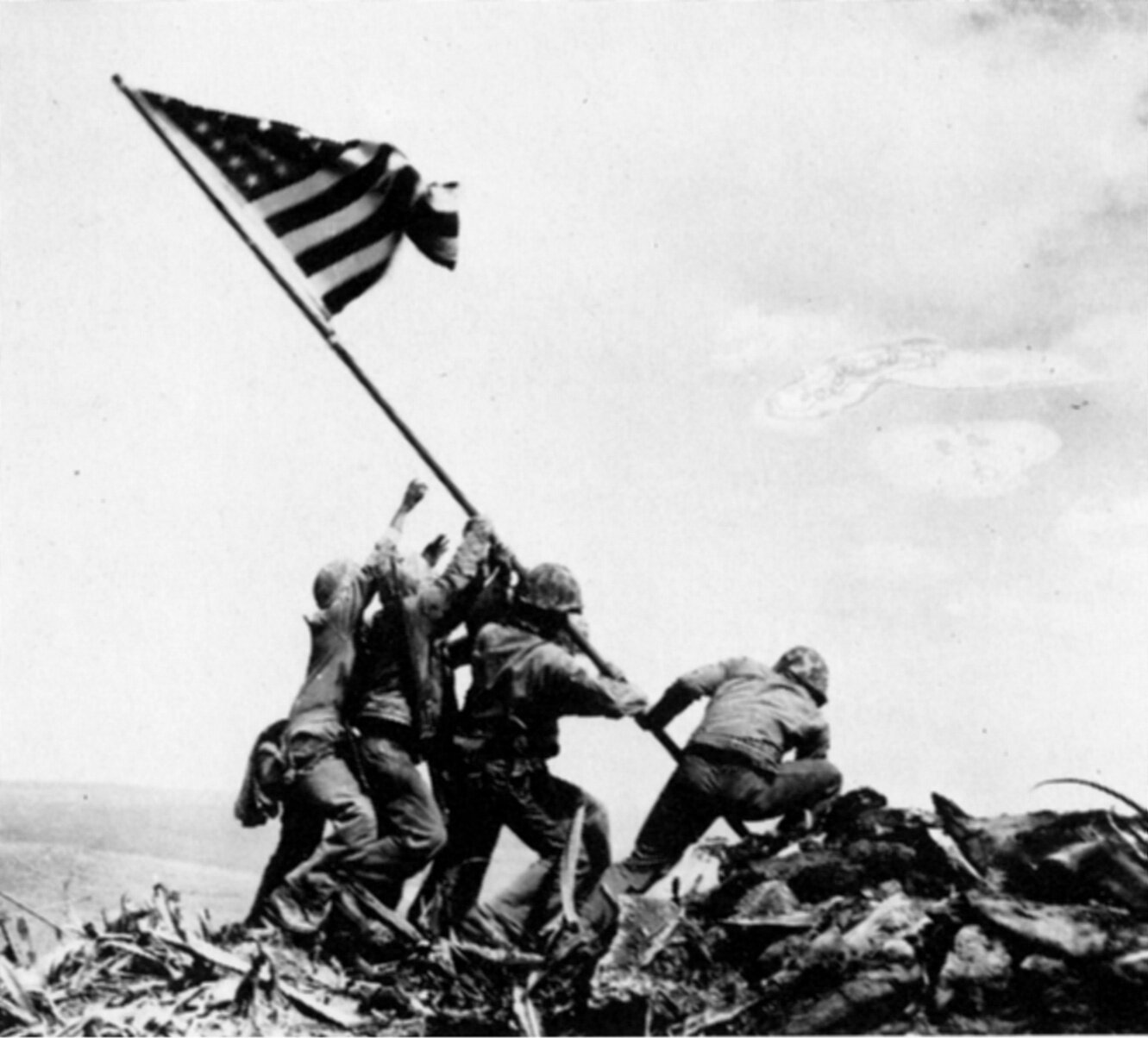 Wayne spent several days on New Britain and Honaker reminisced fondly that, "He became one of us. He was just like everyone else. He showed us he was really a down-to-earth guy… He didn't ask for any protection… He actually did off-screen what he did on the screen.
Whether it was on the front lines during World War II, or sticking up for what he believed in back in Hollywood – John Wayne showed the kind of personal integrity necessary to publicly stand for the values of freedom, individuality, and courage that he cherished. By the late 1950s, John Wayne came to realize that through his films he had become an iconic symbol of what it means to be an American, a responsibility that he never shirked from or took lightly.